Story Progress
Back to home
Roast Chicken Recipe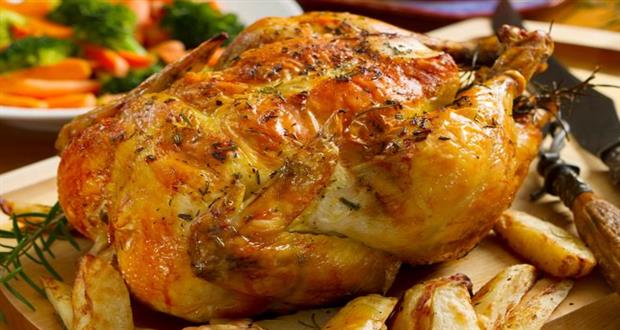 How to make Roast Chicken
Slow roasted whole chicken in a mild gravy. A lighter version of the traditional roast.
Total Cook Time

1 hr 15 mins

Ingredients of Roast Chicken
1 Kg Chicken (broiler-with skin)
6 Tbsp Butter
To taste Salt and Black Pepper , powdered
For gravy:
1 Tbsp Cornflour
1 Tbsp Vinegar
To taste Black Pepper and Salt, powdered
1 tsp Worcestershire Sauce
1 Tbsp Tomato ketchup
1.
Place 1 1/2 cups water, gizzard, heart and neck, salt and pepper in a pan and cook for 2-3 minutes.
2.
Wash and wipe the chicken.
3.
Mix butter with salt and pepper and apply inside and out side the chicken.
4.
Truss the chicken (tie so that it stays in shape).
5.
Place the chicken, in a roasting pan with the stock and cook in a pre-heated oven for one hour, basting and turning every 15 minutes.
7.
Strain the drippings from the pan into a cup and add water to make up one full cup.
8.
Untie chicken Add the gravy ingredients to the drippings solution and cook the mixture till a little thick.
9.
Serve this on the side with the chicken.