Story Progress
Back to home
Honey Roast Chicken Recipe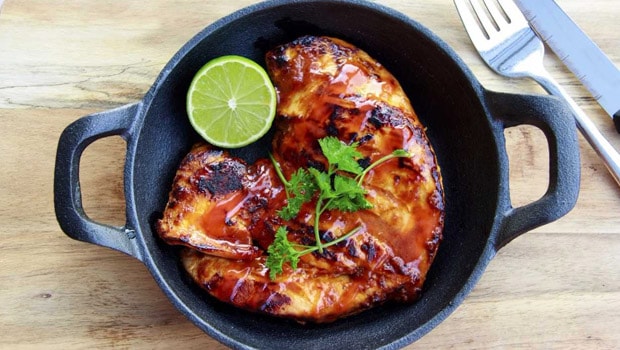 Marinated in rich flavours, chicken is stuffed with masalas and roasted. It is then glazed with honey and roasted again.

Ingredients of Honey Roast Chicken
1 chicken - whole, with skin
50 ml lemon juice
1 tsp garlic paste
1 1/2 tsp Kashmiri mirch
50 ml oil
For the marinade:
2 large onions - sliced and fried in oil until crisp
150 ml yoghurt
2 Tbsp ginger paste
1 ground onion
1 tsp cumin powder
1/4 tsp cinnamon powder
2 ground cloves
6 ground green cardamoms
10 ground black peppercorns
1 tsp salt
For the stuffing:
3 quartered onions
1 tsp chopped ginger
1 tsp chopped garlic
1/2 tsp powdered cloves
3 chopped green chillies
For basting:
50 ml honey
25 ml oil
1.
Make gashes over chicken.
2.
Mix lemon juice, garlic and chilly powder.
3.
Grind fried onions and mix well with the other ingredients for marinating.
4.
Rub 2/3 of the resulting paste over and inside the chicken. Set aside for an hour.
5.
Mix the remaining marinade with the ingredients for the stuffing.
6.
Fill chicken with the stuffing.
8.
Roast at 220 degree C, basting with the juices.
9.
Cook for around 25 minutes or until tender.
10.
Coat with honey and return to the oven for another 10 minutes.
11.
Brush with oil before serving.