Story Progress
Back to home
Prawn and Brinjal Cutlets Recipe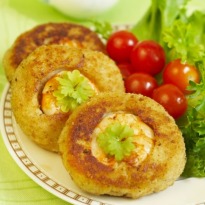 Cutlets made with prawns and indian spices, coated with a brinjal mix and shallow fried.

Ingredients of Prawn and Brinjal Cutlets
For the coating:
1 Brinjal
1 Potato
For the masala:
10-12 cinnamon
10-12 peppercorns
5-6 bay leaves
1 cup grated coconut
For the prawn filling:
1 cup cleaned prawns
2 big onions
2-3 Tbsp ginger-garlic-green chillies-coriander leaves-pudina paste
2 tsp coriander powder
2 tsp jeera powder
1/2 cup finely chopped coriander leaves
Oil for frying
Salt to taste
Some rice flour to coat
For the brinjal outer coating:
1.
Apply little oil over the full brinjal and roast it on the tawa. (like how you make bharta).
2.
Boil one big potato. Grate it.
3.
Peel the brinjal skin and mix the brinjal and grated potato.
4.
Add coriander leaves and salt to taste.
For the masala:
2.
Add cinnamon, peppercorns, bay leaves, cloves (ie. garam masala) and dried red chillies.
3.
Add long cut onions. Add grated coconut.
4.
Fry all the ingredients well. Grind this into a course paste.
5.
Avoid adding much water. Keep it dry.
For the prawns filling:
2.
Add finely chopped onions. Make it golden brown.
3.
Add (ginger-garlic-green chillies-pudina-coriander leaves) paste - 2-3 Tbsp.
4.
Add jeera and coriander powder.
6.
Add the masala you made above, salt to taste and coriander leaves.
7.
Once this mixture has cooled down make small balls.
For the cutlets:
1.
To prepare the cutlet coat the prawns balls with the brinjal mixture and make the cutlets.
2.
Coat it with rice flour and shallow fry it.