Story Progress
Back to home
Roast Leg of Ham Recipe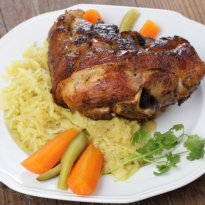 How to make roast leg of ham
Ham studded with cloves, glazed with honey and mustard and roasted to lock in the sweet and spicy flavour.

Ingredients of Roast Leg of Ham
4-5 kg smoked leg of ham 5-6 cinnamon sticks 5-6 bay leaves 4-5 black cardamoms Water Mustard - to taste Honey - to cover ham 15-20 cloves 2-3 tsp bread crumbs 3-4 pineapple slices Pineapple juice (optional)
1.
Make sure you order the smoked leg of ham with bone and fatty skin 3-4 days before cooking. Soak the leg of ham in water, add cinnamons, bay leaves and black cardamoms. Cover and cook it on a slow fire for 4-5 hours. Once tender, remove from water and cut the skin off the meat. Coat it with the mustard, honey and bread crumbs. Pin all the cloves in the meat and top it with the pineapple slices. Roast the ham in a pre-heated oven for 15-20 minutes. For the gravy, use the water in which the ham was boiled. Boil it further to thicken and add some pineapple juice. Slice the ham, pour the gravy on top and serve hot.