Story Progress
Back to home
Kasundi Salmon Tikka with Pumpkin Pure Recipe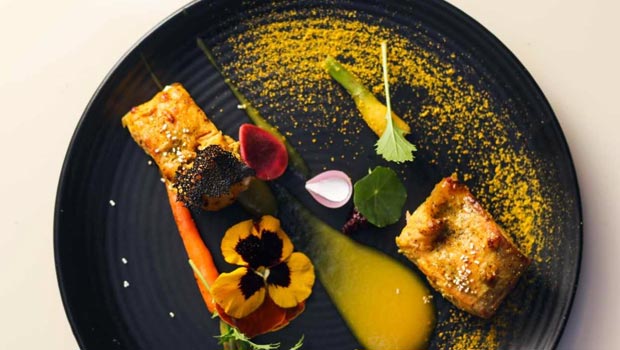 How to make Kasundi Salmon Tikka with Pumpkin Pureé
A perfect seafood snack at any party.

Ingredients of Kasundi Salmon Tikka with Pumpkin Pure
For Tikka:
200 gram Salmon
10 gram Kasundi
5 gram Dijon Mustard
50 gram Hung Curd
20 ml Malt Vinegar
2 gram Javitri elaichi
1 gram Clove powder
1 gram Cinnamon powder
2 gram White pepper powder
to taste Salt
For Pumpkin puree:
500 gram Pumpkin
100 ml Milk
5 pieces Bay leaf
2 gram Shahi zeera
5 gram Green cardamom
to taste Salt
5 gram Black pepper corn
2.
Slice the salmon in 50 gm. pieces, soak in lemon and water for 30 minutes to avoid any smell.
3.
Mix all ingredients well with hung yoghurt and rub with your palm on the mixing bowl until entirely smooth.
4.
Dress the salmon gently with the mixture and allow to rest for 4-6 hours.
Prepare the Pumpkin puree:
1.
Pour milk in a baking tray along with all other ingredients and place pumpkin on top . Cover the tray with Silver foil and cook in the oven at 180c for 60 minutes.
2.
One the pumpkin is tender allow to cool and blend it in the blender along with milk after straining out all spices .
3.
Cook the salmon in the tandoor until charred on the outside.
4.
Plate sauce and choice of vegetable as shown in the image attached along.