Story Progress
Back to home
Santula Recipe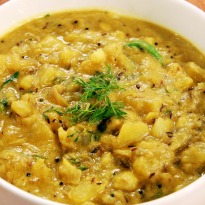 How to make Santula
Potatoes, raw papaya and brinjals cooked in raw milk, chillies and masalas. Santula is a very popular vegetable dish of Orrisa.

Ingredients of Santula
250 gms potatoes, chopped
100 gms raw papaya, chopped
3 brinjals (cut them into two)
Water, little bit
1 Tbsp turmeric powder
Sea salt for taste
Ginger, small whole piece
1/2 Tbsp coriander powder
2 Tbsp refined oil
1 onion, sliced
2 pieces garlic
1/2 Tbsp mustard seeds
1 cup milk
1/2 tsp asafoetida (Heeng)
2 whole green chillies
1.
In a pressure cooker add cut potatoes, raw papaya, brinjals and a little bit of water.
2.
Add turmeric powder, salt, ginger and cumin to the potatoes, papaya and brinjals.
3.
In a pan, saute sliced onions, mustard and cumin seeds.
4.
Add chopped ginger, garlic, turmeric, coriander powder, asafoetida, salt and water.
5.
Transfer the potaoes, raw papaya and brinjal to the pan.
7.
Garnish with some coriander and whole green chillies.