Story Progress
Back to home
Scheherazade Biryani Recipe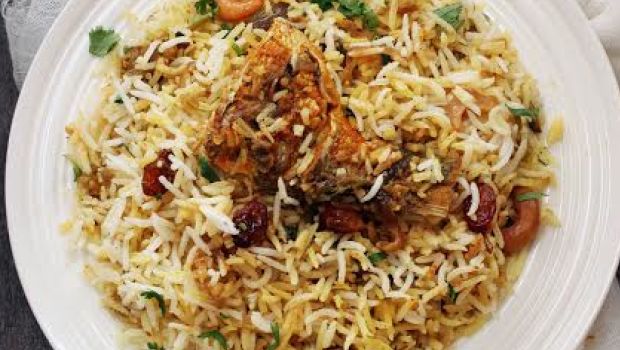 How to make Scheherazade Biryani
About Scheherazade Biryani Recipe: Traditional Iranian style biryani layered with marinated fish and fried onions. Topped with raisins and cashews. The aroma of rose water is beautiful in this biryani recipe.
Total Cook Time

1 hr 25 mins

Ingredients of Scheherazade Biryani
For Marinade:
to taste Salt
to taste Pepper
1 tsp Turmeric powder
1 tbsp Garam masala powder
1 tsp Cornflour (dissolved in water)
2 Eggs
For Biryani:
100 gram Dalda ghee
40 gram Whole garam masala (bread loaf, clove, coriander, fennel, black cardamom, cinnamon, red chilli dry, mace, cumin, caraway)
200 gram Onion
2 tbsp Ginger paste
2 tbsp Garlic paste
50 gram Tomato
3 tbsp Coriander
1/2 cup Yogurt
1 kg Basmati rice
400 gram Grouper fish fillet (or any white fish, cut in 1x1)
1 litre Oil
2 tsp Cumin seeds
1 Green capsicum (diced)
50 gram Green peas
50 gram Cashew nuts
50 gram Raisins
1 tsp Saffron (zaffran)
2 tbsp Kewra water
1/2 cup Rose water
1 bunch Mint
1 tbsp Red chilli powder
1.
Take fish cubes and add salt, pepper, turmeric, garam masala, cornflour, egg. Leave to marinate for a while.
2.
Take a pot and melt dalda ghee. Put garam masala, onion, ginger paste and garlic paste in this.
3.
When it starts spitting, add chopped tomato, coriander and yogurt. Add water as required.
4.
On second boil, add rice.
5.
When the rice is nearly done, put a tight lid on and leave on dumpukht for 20 minutes.
6.
Deep fry the marinated fish in hot oil. Keep aside.
7.
In another fry pan, heat some oil and put cumin seeds. Add diced capsicum and onion and sauté on a high flame.
8.
Add some gravy made with tomato puree, ginger, garlic paste and onions, cook till oil separates.
9.
In the end, add the fried fish and fold into gravy.
10.
Remove the lid from rice. Add kewra / rose water for aroma.
11.
Take a serving dish and put one layer of rice and one layer of fish masala.
12.
Garnish with fried onions
13.
Layer again with fish and then rice.
14.
End with a topping of fried onion, cashews and raisins.