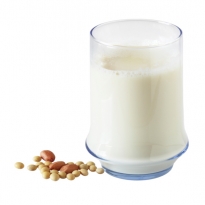 Soya milk finely tuned with the flavors of rose water, cardamom, fennel seeds and dry fruits.
Ingredients of Soya Thandai
3 Cups Soya Milk
1 Tbsp Cashew Nuts
1 Tbsp Almonds
1 Tbsp Poppy Seeds
1 Tbsp Fennel Seeds
5 Peppercorns
1/2 tsp Cardamom Powder
6 Tbsp Sugar
1 Tbsp Rose water
How to Make Soya Thandai
1.

Blanch and peel the almonds.

2.

Soak all the ingredients except sugar in water for about four hours.

3.

Grind into a fine paste.

4.

Add the paste to cold soya milk and strain through a muslin cloth. Discard the residue.

5.

Add sugar and rose water to the strained soya milk.

6.

Chill the thandai and serve with ice.