Story Progress
Back to home
Stone Fruit Crumble Recipe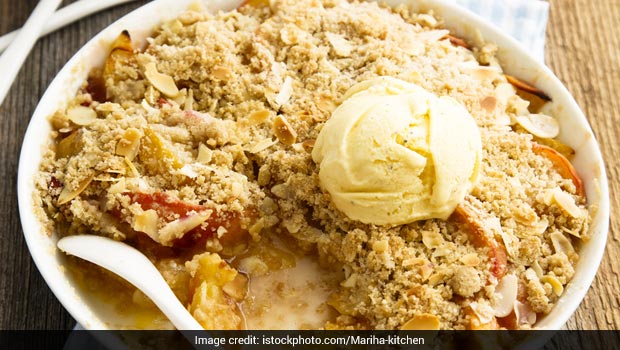 How to make Stone Fruit Crumble
Beautiful plums, peaches, mixed fruits, berries and chopped dates cooked with cinnamon and red wine, sprinkled with crumble and baked.

Ingredients of Stone Fruit Crumble
3-4 plums
2-3 peaches
2 tbsp brown sugar
2 tbsp red wine
1 cinnamon stick
1 star anise
1/2 cup mixed dried berries
1/2 cup pitted dates, chopped
For the crumble:
80 gms cornflakes
80 gms oatmeal
100 gms white flour (maida)
A pinch of salt
1 tbsp brown sugar
60 gms butter (softened)
1.
In a bowl mix all the ingredients for the crumble thoroughly.
2.
Cut the plums and peaches into cubes and put in a bowl.
3.
In a hot pan melt brown sugar with red wine.
4.
To this add a cinnamon stick and star anise.
5.
Add the mixed fruits, berries and chopped dates into the hot pan and let it cook.
6.
Cover the pan and let the fruits cook for a few minutes till soft but not mushy.
7.
Put the stewed fruits in a baking dish and chill in the refrigerator for 5-7 minutes.
8.
Remove and sprinkle the crumble over the fruits.
9.
Bake in the oven at 180 degrees for 10-15 minutes.
10.
Garnish with mint leaves and serve hot or cold.