Story Progress
Back to home
Stuffed Tomatoes Recipe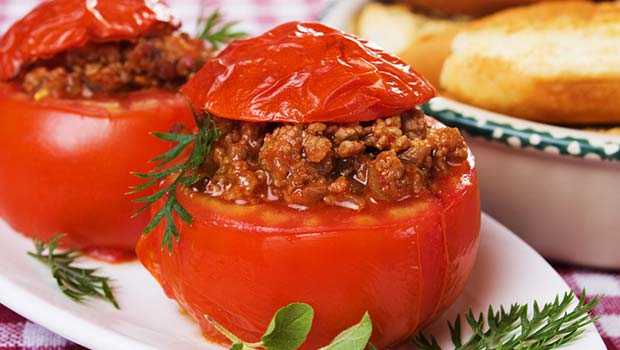 How to make Stuffed Tomatoes
Tomatoes stuffed with a minty rice and chickpeas mix, coated in an egg-yogurt batter and grilled on a tandoor. Served with sesame-besan masala.

Ingredients of Stuffed Tomatoes
6 Large Firm tomatoes
2 tbsp Chickpeas (boiled), soaked
5 tbsp Rice, boiled
1 large Onion, finely chopped
Salt and pepper
1 tbsp Mint leaves, shredded
A pinch of Cinnamon powder
2 Tomatoes (peeled and seeded), chopped
For batter:
2 Eggs
75 gram Gram flour
75 ml Yogurt
1 tsp Coriander powder
1 tsp Salt
For besan-til masala:
1 tbsp Oil
2 tsp Coriander seeds
1/2 tsp Mustard seeds
1/2 tsp Sesame seeds
A pinch of Hing
2 tbsp Gram flour
4-6 Green chillies
Salt
1.
Cut the tops of the full tomatoes. Scoop out seeds.
2.
Combine remaining filling ingredients. Season.
3.
Fill into tomato cavities. Replace tops on tomatoes and secure with string.
Prepare the batter:
1.
Beat ingredients until smooth. Use to coat tomatoes.
2.
Skewer onto sticks and bake in a hot oven/ tandoor until batter colors.
3.
Serve with besan-til masala.
Prepare the masala:
1.
Heat oil and fry coriander and mustard seeds, followed by sesame and hing.
2.
Stir well before adding gram flour.