Sweet Potato Rabdi Recipe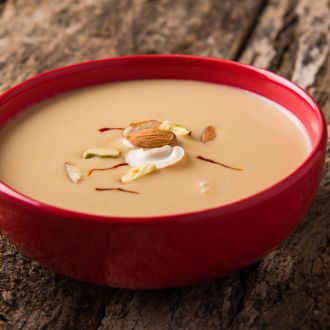 Sweet potato is no less than a superfood as it is loaded with fiber, Vitamin A and Vitamin C and minerals like magnesium and calcium. The milk in the recipe gives it a protein touch and saffron is a natural food colorant which is loaded with umpteen benefits.
Ingredients of Sweet Potato Rabdi
150ml milk
2 Tbsp sweet potato, boiled and mashed
1/2 tsp sugar
1/2 cup warm water
1/2 tsp elaichi powder
Few saffron strands
1 tsp mixed nuts
How to Make Sweet Potato Rabdi
1.
1. Boil the milk well and then add the mashed sweet potato into it. Cook well till the milk thickens.

1
2.
2. Now add the saffron strands to a cup of warm water and wait till they dissolve completely.

1
3.
3. Add this to the milk mixture and stir well. Stir in elachi powder and cook for 3-4 minutes.

1
4.
4. In the end, add nuts on top and empty the entire rabdi in a bowl and let it cool. Refrigerate for 1 hour. Serve chilled.

1
Key Ingredients: