Story Progress
Back to home
Tandoori Bataer (Quail) Recipe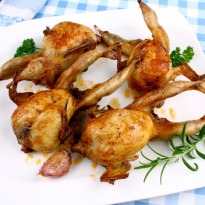 How to make Tandoori Bataer (Quail)
Mixed with the choicest of ingredients, this quail is cooked in an oven.

Ingredients of Tandoori Bataer (Quail)
Oven Temp: 450 F- 220 C
1 Kg Bataer (cleaned and ready to cook)
2 tsp Garlic Paste
2 tsp Ginger Paste
1 tsp Garam Masala
2 tsp Red Pepper, powdered
1 tsp Black Pepper, powdered
1 Tbsp Salt
3 Tbsp Vinegar
To garnish Lemon Quarters
To garnish Onion Rings
1.
Prick the bataers with a fork, and mix in all the ingredients, except the lemon and the onions, and leave for 4-6 hours, turning a few times.
2.
About 10-12 minutes before serving, place the birds in a drip pan, and place it into the preheated oven. Bake for 10-12 minutes.
3.
Serve garnished with lemon and onion rings.
Key Ingredients: Bataer (cleaned and ready to cook), Garlic Paste, Ginger Paste, Garam Masala, Red Pepper, Black Pepper, Salt , Vinegar, Lemon Quarters, Onion Rings