Story Progress
Back to home
Thai Curry Bread Recipe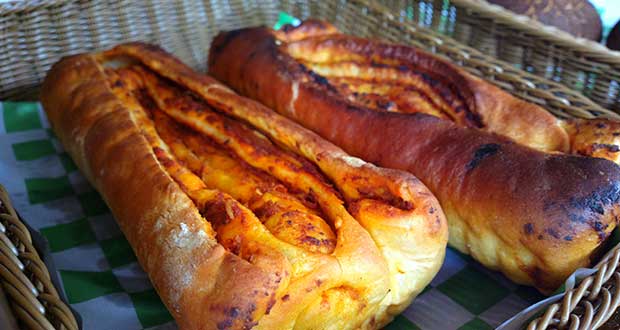 Why step out to the supermarket when you can make delicious bread at home? The freshness of the bread and the warm flavours of thai curry paste make this loaf impressive.

Ingredients of Thai Curry Bread
2 cups of refined flour
2 Tbsp of red Thai curry paste
1 tsp of salt
2 tsp of gluten
1 tsp of fresh yeast
2 tsp of bread improver
5 Tbsp of cooking oil
1 tsp of castor sugar
2 leaves of kaffir lime
2 tsp of galangal
1/2 a cup of water
1.
1. Mix yeast in 10 ml of luke warm water with 1 tsp of sugar and a pinch of salt.
2.
2. Now finely chop the galangal and kaffir lime.
3.
3. Prepare the dough using refined flour, gluten, bread improver, oil, water and yeast solution.
4.
4. Punch the dough nicely to increase the gluten strength.
5.
5. Now flatten the dough and apply Thai curry paste and roll the bread like pin wheel.
6.
6. Place it in the bread mould and put a deep cut on the top to separate the layers.
7.
7. Let it prove for an hour in warm temperature.
8.
8. Bake it at 200 c for 15 min. or till golden color on top.