Story Progress
Back to home
Tofu with Spinach in Black Pepper Sauce Recipe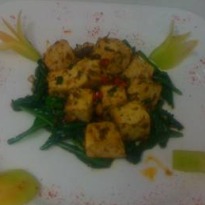 How to make Tofu with Spinach in Black Pepper Sauce
Silken cubes of tofu stir-fried in mild spices and served on a bed of spinach leaves drizzled with a peppery sauce.

Ingredients of Tofu with Spinach in Black Pepper Sauce
200 gm cubes tofu
1/4 cup spinach
1/3 cup olive oil
2 large red bell peppers, seeded, thinly sliced
3 Tbsp minced peeled fresh ginger
3 large garlic cloves, finely chopped
3 green onions, thinly sliced on diagonal
3 Tbsp soy sauce
2 Tbsp fresh lime juice
1/2 to 3/4 tsp dried crushed red pepper
1/3 cup chopped fresh basil
1/3 cup lightly salted roasted peanuts (optional)
1.
Heat oil in a wok over high heat.
2.
Add bell peppers, ginger, garlic and saute until peppers just begin to soften, about 2 minutes.
3.
Add tofu and green onions. Toss for about 2 minutes.
4.
Next add soy sauce, lime juice and red pepper. Toss to blend for about 1 minute.
5.
Add spinach in 3 additions, tossing until beginning to wilt, about 1 minute for each addition.
7.
Season with salt and pepper.
8.
Sprinkle peanuts over (optional).