Story Progress
Back to home
Tomato Basil Pilaf Recipe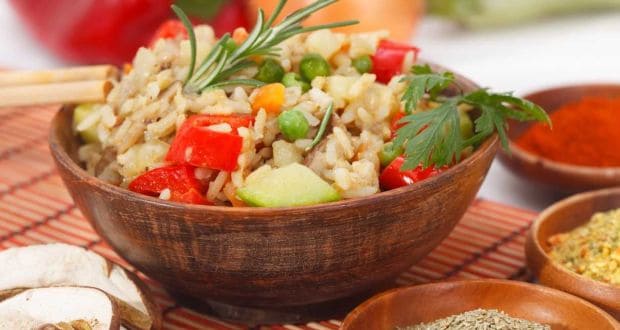 How to make Tomato Basil Pilaf
About Tomato Basil Pilaf Recipe: An easy to make tomato rice dish with the aroma of basil leaves. Prepare this quick and easy rice dish for lunch that you can pack for tiffin as well.

Ingredients of Tomato Basil Pilaf
1 Tbsp Butter
1 medium Onion, chopped
4-5 Black peppercorns
1 Bay leaf
1/2 tsp Shahi jeera
3-4 Garlic cloves
1 Tomato, chopped
3-4 tbsp Tomato puree
1 cup Basmati rice (raw weight, pre soaked)
to taste Salt and pepper
3-4 Basil leaves + for garnishing
2 cups Vegetable stock or water
1.
In a deep pan add butter. Add onions. Saute.
2.
Add pepper corns, bay leaf, shahi zeera, garlic and tomato. Saute for 2-3 minutes.
3.
Add the tomato puree. Cook for 2 minutes.
4.
Add the pre soaked basmati, salt, pepper, basil leaves and the stock.
5.
Cook till rice are done. Garnish with some basil leaves.
6.
Serve with a mushroom ragout.