Story Progress
Back to home
Fried Rice with Soya Chunks Recipe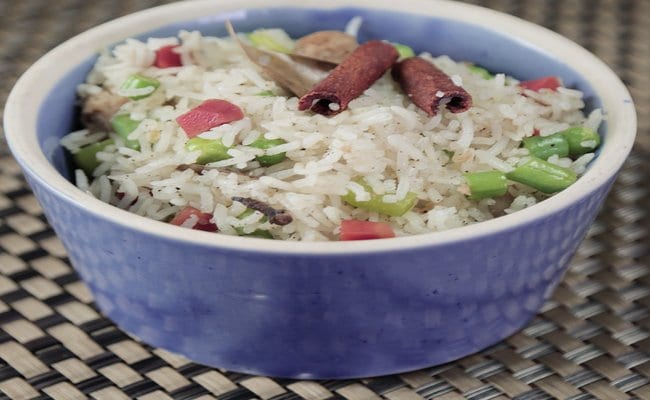 How to make Fried Rice with Soya Chunks
NDTV Food
About Fried Rice with Soya Chunks Recipe: This is a quick and easy dish, especially to have something different for lunch. Soya chunks are protein and fibre rich and are often used to make biryani and curries.

Ingredients of Fried Rice with Soya Chunks
2 Cups Basmati Rice, medium
1 cups Carrot, chopped
1 cups Capsicum, chopped
1 cups Beans, chopped
1 cups Green peas, peeled
1/2 tsp Ginger, chopped
1 tsp Garlic, chopped
1 tsp Green Chillies, chopped
2 Bay Leaf
2 Cinnamon sticks
2 Green cardamoms
1 Clove
2 tbsp Oil
1 cups Soya chunks, braised
2 tbsp Salt
A pinch of Sugar
1.
Take water in a pan, add salt and soya chunks. 2.
Remove the water and rinse the soya chunks in running cold water and squeeze them and keep them aside.
3.
Take a pan and put 2 cups water in it, add a pinch of salt and sugar. Bring to boil. 4.
Add green peas, finely chopped carrot, beans and capsicum to the pan of boiled water. 5.
Blanch these veggies for a few minutes. 6.
Now cook the rice in a separate pot. Cooking rice for Basmati or any other long grained rice in 2:1 ratio i.e. 2 cups of water for 1 cup of rice. Drain the water and spread the rice on a large plate or tray. Let it cool for some time. Do not over-cook the rice.
7.
Now take some oil in a pan, add bay leaves, cinnamon sticks, cloves and cardamom. 8.
Fry them for a few minutes and when they exudes aroma, add ginger, garlic and green chillies. 9.
Add boiled soya chunks to it and mix well. 10.
Take the blanched veggies and sauté in high flame, tossing for a couple of minutes, just enough to leave them crunchy. 11.
Add salt and black paper while mixing them.
12.
Add the cooked rice to the soya and stir fry with the vegetables for few minutes. 13.
Serve hot with garnishing of fried soya chunks.
Recipe Notes
The rice should not be over cooked and must be completely cooled before adding with the vegetables and chicken or else it will be a sticky mess.
You can also add freshly chopped coriander as a garnishing since it enhances the flavor of the rice more.
Watch the step by step recipe of Fried Rice with Soya Chunks here: