Story Progress
Back to home
Vegetable Ash Tofu in Blueberry Sauce Recipe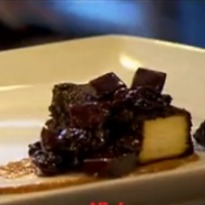 How to make Vegetable Ash Tofu in Blueberry Sauce
A delight for your eyes as well as your taste buds. This dish meshes up the goodness of tofu, carrots, brinjal and other veggies with the tang of a blueberry-beetroot sauce.

Ingredients of Vegetable Ash Tofu in Blueberry Sauce
100 gms tofu, sliced into two pieces
For Vegetable Ash:
1 carrot, finely chopped
1 brinjal, finely chopped
1 squash, finely chopped
For Beetroot and Blueberry:
A dash of olive oil
1 small cup of beetroot, diced
10-12 blueberries
A dash of olive oil
A dash of white wine
A pinch of ginger, finely chopped
1/2 an jalapeno pepper, finely chopped
For the Side Vegetables:
1-2 Tbsp of olive oil
2-3 pearl onions, whole
2 broccoli florets, sliced
5-6 mushrooms (any)
1 squash, sliced
A dash of white wine
Season with salt and pepper
For the Sauce:
1-2 Tbsp of olive oil
2 potatoes, thinly sliced
2 apples, thinly sliced
1-2 Tbsp of zuchini puree
A pinch of curry spice
3/4 cup of water
1.
In a tray add carrot, brinjal and squash and burn them in an oven on full blast. Once burnt, blend in a mixer.
2.
In a plate, add the vegetable ash and coat each tofu piece with it.
3.
In a hot pan, put a dash of olive oil and pan sear the tofu on all sides for 3-4 minutes and then, put it in the oven for 8 to 10 minutes at 180 degree C.
4.
Now, in another pan with hot olive oil, add the beetroot, blueberries and a dash of white wine, ginger, chopped jalapeno peppers and keep stirring for 2-3 minutes and then keep it aside.
5.
In a fresh pan, add a dash of olive oil, pearl onions, broccoli florets, squash, mushrooms and white wine.
6.
Season it with salt and pepper. Saute till they turn light brown.
7.
In a hot pan, add 1-2 tsp of olive oil, potatoes, apples, curry spice, water, zucchini puree and cook for 1-2 minutes.
9.
In a plate, smear 1 tsp of caramelized onions puree on one side. Now place the tofu pieces on either side of the puree, pour over the blueberry and beetroots on the tofu and last but not the least, place the potato and other vegetables on the side and enjoy.