Story Progress
Back to home
Walnut and Chocolate Pudding Recipe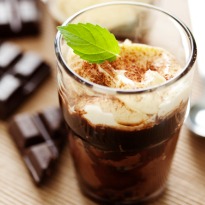 A smooth and velvety pudding with the goodness of walnuts and the crunch of sponge fingers.
Total Cook Time

1 hr 05 mins

Ingredients of Walnut and Chocolate Pudding
For the Sponge Fingers:
2 eggs - separated whites and yolk
2 1/2 Tbsp castor sugar
2 1/2 Tbsp flour
For the Pudding:
100 gm chopped bitter chocolate
4 Tbsp water
4 Tbsp castor sugar
4 Tbsp butter
4 eggs separated
4 Tbsp ground walnuts
150 ml strong black coffee
1 Tbsp rum
For the Sponge Fingers:
1.
Whip whites until stiff. Gradually whisk in sugar.
3.
Pipe out fingers onto a greased and lined tray.
4.
Bake at 190 degrees C until crisp. Remove from oven and cool.
For the Pudding:
1.
Melt chocolate with water in a double boiler.
3.
Beat well. Cook for five minutes.
6.
Fold in whipped whites along with walnuts.
7.
Stir in coffee, rum and crushed sponge fingers.
8.
Spoon into a serving bowl.
9.
Chill and serve decorated with whipped and chocolate.