Story Progress
Back to home
Walnut Cake with Icing Recipe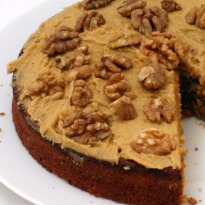 With the crunchiness of walnuts this cake is iced with an egg white-cream mixture and walnuts.

Ingredients of Walnut Cake with Icing
200 gm butter
200 gm castor sugar
4 eggs
200 gm flour
2 tsp baking powder
100 gm finely chopped walnuts
Icing:
2 egg whites
300 gm icing sugar
2 Tbsp cream
Walnut halves to decorate
1.
Beat butter and sugar together until light and fluffy.
3.
Fold in flour, baking powder and walnuts.
4.
Mixture should be of a soft, dropping consistency. If not, stir in 1 tbsp milk.
5.
Bake in a greased and lined 8" round tin at 180 degrees C for about 30 minutes or until well risen and firm to the touch.
For the icing:
1.
Whip egg whites until stiff.
2.
Gradually whisk in sugar.
5.
Serve decorated with walnut halves.