Story Progress
Back to home
Walnut Fudge Recipe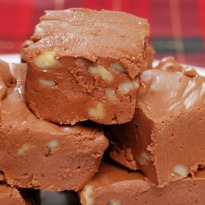 A smooth and velvety fudge with the crunch of walnuts.

Ingredients of Walnut Fudge
400 gm condensed milk
2 Tbsp cocoa powder
1/2 tsp vanilla essence
2 Tbsp butter
1/2 cup chopped walnuts
A greased plate to set the fudge
1.
Place the condensed milk, cocoa, vanilla and butter in a pan and mix well.
2.
Place the pan over high heat and cook, stirring all the time.
3.
Cook till a soft ball consistency - a blob of it dropped in a cup of cold water, should set and spread.
4.
Take it off the heat and mix in the walnuts.
5.
Transfer immediately on to the greased plate, level smooth and leave to set. Cut into desired sized pieces when cool.
6.
If you want them shaped into squares or rounds, shape them when cool enough to handle, and set them in a greased plate to set.