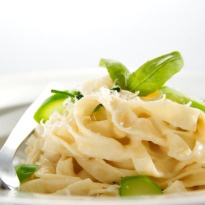 Smooth pasta ribbons smothered in a rich and creamy white sauce.
Ingredients of White Pasta Salad
200 gms taglietti pasta (boiled with a pinch of salt and 1 tsp olive oil till al dente)
For the White Sauce:
4 tbsp butter
1 cup flour
3/4 cup cream
to taste salt
to taste black pepper
How to Make White Pasta Salad
1.

Boil the pasta. Drain and keep aside.

2.

In a pan add butter. Once it melts add the flour and mix continuously without forming lumps. Saute for 2 minutes.

3.

Add cream, salt and pepper. Mix thoroughly.

4.

Add the boiled pasta. Mix well.

5.

Serve.
Key Ingredients: taglietti pasta (boiled with a pinch of salt and 1 tsp olive oil till al dente), butter, flour, cream, salt, black pepper