Story Progress
Back to home
Yogurt Parfait Recipe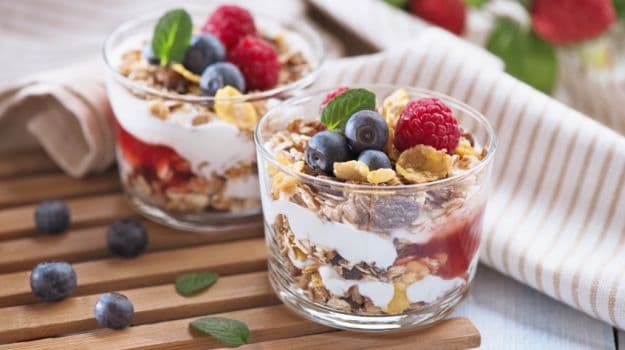 How to make Yogurt Parfait
About Yogurt Parfait Recipe: Re-energize with this healthy dessert. Multiple layers of yogurt, nuts, cereals, pine nuts and fruits.

Ingredients of Yogurt Parfait
250 gms yogurt
1/4 Watermelon
1/4 Pineapple
1 Orange
2 Apples
6-7 Kiwis
3-4 tbsp pomegranate
1/2 cup goji berry
Guava juice
Cereals
Pine nuts
1.
Take all the fruits in one bowl. Mix them all well. Add guava juice.
2.
Take a jar and add a layer of yogurt then the layer of fruits.
3.
Then add a layer of pre-soaked oats.
4.
Add another layer of yogurt and add pine nuts and cereals.
5.
Then add layer of fruits, oats and then add a final layer of yogurt. Top it up with some nuts.
Recipe Notes
Oats should be pre-soaked in saffron milk.