Book Review: Pastry Paris
Suhani Mahajan Bhel | Updated: October 03, 2012 12:33 IST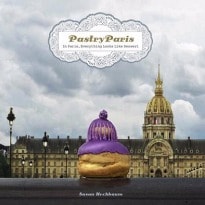 Book: Pastry Paris
Author: Susan Hochbaum

I love Paris. I love French pastry. I love Paris..oh! Well I could write about my love for Paris for pages, maybe even a book on it. So when I came across this compact book, needless to say, I had to buy it. Paris, monuments, pastry, color compositions. What's not to love in it?

'Abandoning restraint, and with the appetite of a teenager I found my muse in butter, cream and sugar, shaped into sweet sculptures that rival the one's in the city's museums. I see pastries everywhere, and not just in the Patisseries. The dome of Sacré-Cœur, gas caps on the sidewalk, topiary in the Place des Vosges. In Paris, everything looks like dessert.'

This book is for all the lovers of Paris, Pastry, and Parisian's way of life. It is a visual treat with a very innovative and quirky concept. The book is a compilation of carefully selected institutional French pastries which have been compared to various inspiring day to day products such as clothes, walkways, railings, man holes, hats, zebra crossings and walls. Every dessert has a footnote explaining its history and what it's made of and how it is eaten best.


Delicate comparisons between the delectable St. Honore Pastry to the folds of a gown. (Left)





Eclair resembling the metropolitan signage (Right) and Tarte au Citron resembling a Bateaux Mouches.

What's not to drool?
The book closes with a beautiful quote - 'Tell me what you eat and I will tell you who you are'. If you love French pastry, and Paris then I recommend it as a must buy! Till next time, I continue my endless dream of Paris and a nice crusty 100 layer croissant!

Reviewed by: Suhani Mahajan Bhel