From the foxhole where I attempt to pin stars on restaurants, the view is limited. Mostly, I can see the establishment I'm writing about that week. I may glance at its competitors, to see if Slugburger Deluxe is performing up to the high standards set by Slugburger 5000 at the Trump Galaxy. But the question I try to answer, above others, is how close Slugburger Deluxe comes to succeeding on its own terms.
As I sift through a full year's reviews, though, trying to choose the 10 new places in New York I feel most strongly about and rank them in order, other questions loom. Could I say, without my notes and the barrel of a deadline pressed against my temple, what makes the restaurant distinctive? Does it offer something the city was missing, or suggest a fresh approach that deserves to catch on? Did I recommend the place to friends after the review was published? Have I gone back, or wished I could? When I think about the menu, do I find myself wondering if there's time, before my 8 p.m. reservation at the hot place that just opened, for a quick double slugburger with miso-sriracha slug sauce?
Still, readers who regard the stars with my reviews as the final word may find it unnerving that my list of my favorite restaurants of 2014 includes a one-star restaurant, while a number of two-stars don't chart at all. And just to make things more illogical, in one case I've ranked a two-star (Russ & Daughters Cafe) above a three-star (the Simone).
As an example of my nonlinear thinking, a little one-star place in Williamsburg, Brooklyn, called Delaware and Hudson makes my year-end cut. Down in my foxhole, the memory of a few dishes that didn't quite get up and dance was still fresh and seemed to require some kind of warning in the star rating. But when I look back at the restaurants that brought a fresh perspective to the dining scene this year, a few wobbly courses seem less important than Delaware and Hudson's revival of forgotten mid-Atlantic recipes, its extraordinarily well-priced $48 set menus with their profusion of memorable tastes, and its fantastic warm pretzel rolls. Other restaurants were more consistent, but few were as original.
So while I stand by the weekly star ratings, this annual list gives more weight to other things, like value and a strong, clear point of view. Of the new restaurants I reviewed in 2014, these are the ones I remember most vividly and fondly. All 10 stand out from a pack of other new places where you can also get a good meal. Now if you need me, look for me in my foxhole. Just follow the trail of pretzel crumbs.
1. Batard
For New Yorkers who've been eating and drinking at this address since the Montrachet era, Batard reads like a new chapter in downtown dining. It makes a clean break with the style of the last restaurant in this space, Corton, which demanded that you submit to the will of the chef as Paul Liebrandt's tasting menu went through its stunning gyrations. That had its rewards, but a high-spirited dining room was not one of them. Batard brings back the fun. You hear it in the voices and see it in the smiles of customers as they realize that this place revolves around them, not the artistry on the plate. There is plenty of that in Markus Glocker's cooking, but it doesn't demand supplication.
The menu is a la carte, hardly a radical idea but one that puts the customer back in charge. (It also makes it much easier to pick a bottle from Batard's great, largely Burgundian cellar and stick with it throughout the meal.) Glocker's flavors make sense, and when he fusses with an ingredient, it's not for the sake of showing off; it's because he's bringing to the foreground some quality that we may have missed. Some of his most enjoyable food leans toward Austria, where he was raised, like the chicken schnitzel served with what has to be the finest potato salad in the city. It's a wonderfully sane dish in a restaurant that tries to bring sanity back to high-style dining.
239 W. Broadway (Walker Street), Tribeca; 212-219-2777
2. Russ & Daughters Cafe
A sit-down branch of the century-old Russ & Daughters appetizing business finally arrived this year, and not a minute too soon. As the death of Cafe Edison this month has reminded us, New Yorkers can't keep taking blintzes, latkes and borscht for granted. The cooking of Eastern European Jews helps make up the flavor of New York, and its survival in a city of changing demographics and pitiless real estate churn isn't guaranteed. If that food has a future, it may look like Russ & Daughters Cafe. The place offers modern innovations, like servers who don't grumble and bark.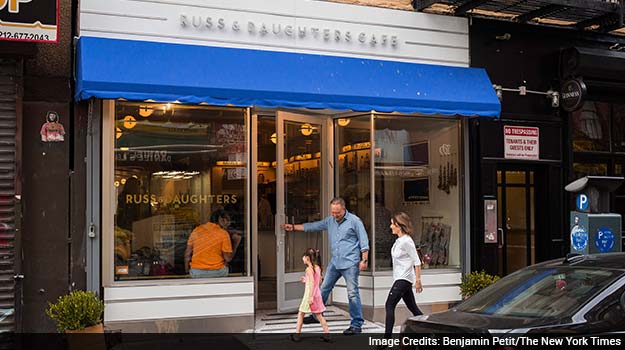 The interior, with white marble tables and vintage photos, is soaked in history without feeling dated. And there is liquid relief for the herring-besieged palate, from a beet-lemon shrub to stronger mixed drinks and a wine list brief but built with care. All of this should help build a new audience for traditional flavors, like the mushroom-barley soup with its dark, woodsy, creamless mushroom stock or the improbably fluffy baby knishes. And, of course, there are the fishes, each more luxuriously oily than the last. The Lower East Side probably has twice as many restaurants as it needs, but this one feels essential.
127 Orchard St. (Delancey Street), Lower East Side; 212-475-4881
3. The Simone
With its menus written in cursive, its sedate townhouse dining room on the Upper East Side and its waiters in vests and tightly knotted neckties, the Simone is easily the year's least trendy restaurant. But trends aren't always interesting, and the Simone's retro ideas aren't stale. They honestly express the sensibilities of the owners, Chip Smith, Tina Vaughn and Robert Margolis, who believe that the old-fashioned niceties are still relevant. While you're at the Simone, you believe it, too. This extends to Smith's cooking, which is classically French in technique but feels timeless and natural in his hands. Vaughn, his wife, has a talent for finding the right wine, and she'll tell you why with a minimum of wine-speak but a winning level of enthusiasm. Like the restaurant, there's nothing starchy about her.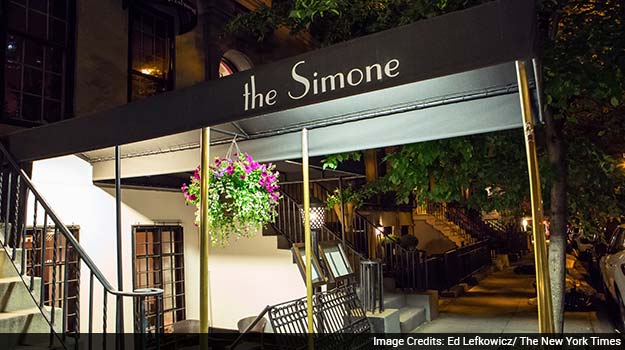 51 E. 82nd St., Upper East Side; 212-772-8861
4. Cherche Midi
Keith McNally says he builds the kind of restaurants where he'd like to eat. Anyone seeing how well Cherche Midi has turned out will wonder why all other restaurateurs don't do the same. The music plays so quietly that you register it subliminally, if at all. The service is free of pretense and amateurism. The menu requires no introductory speechifying, although it helps to be familiar with premodern French totems like frogs' legs in parsley sauce, steamed mussels, crepes suzette and iles flottantes. The star is that banquet war horse, prime rib, elevated to heroic stature. Little about Cherche Midi is new, but there is plenty to lure you, and presumably McNally, again and again.
282 Bowery (East Houston Street), NoLIta; 212-226-3055
5. Ivan Ramen
The name may be a mistake. Certainly it doesn't give the full picture. Like Momofuku Noodle Bar, Ivan Ramen is more than a place for noodle soup, though its shio ramen is a dashi-loaded blast of shimmering Jewish-grandmother chicken broth, and the spicy red chili ramen could probably end wars. Purists who measure this restaurant against traditional ramen-yas are missing the point: Ivan Ramen is a chef's restaurant, where Ivan Orkin, a son of Long Island, plays delicious and witty games with Japanese food. If you know another ramen shop in the city serving braised beef heart in dashi and beef broth that can touch Orkin's, please send the address, now.
25 Clinton St. (Stanton Street), Lower East Side; 646-678-3859
6. Delaware and Hudson
Patti Jackson's $48 menus at Delaware and Hudson are some of the best deals in the city. Officially, you get four courses, but the first one includes three or four small appetizers, and the last one is a pair of desserts and a plate of mignardise that she delivers herself, shyly taking a curtain call. Jackson is a generous chef, one who puts pleasure and flavor above Instagram-ready aesthetics. The value, in other words, goes beyond quality-for-dollar mathematics. Drawing on homey Mid-Atlantic recipes and the pasta skills she learned in Italian kitchens, Jackson cooks as if the only point of running a restaurant is to make people happy.
135 N. Fifth St. (Bedford Avenue), Williamsburg, Brooklyn; 718-218-8191
7. Contra
The great achievement of Contra is that it's both highly ambitious and resolutely accessible. The chefs (Jeremiah Stone handles the savory courses, while Fabian von Hauske is in charge of desserts and bread) cook expressively, gently, with an aversion for easy effects. Every dish, from monkfish with onion jam and a froth made from smoked trout to the popcorn mousse with tangerine granita, rewards curiosity with quiet surprises. This is the kind of serious cooking that often goes with marathon tasting menus and high prices, but Contra is content with five well-considered courses and a very humane price of $55. Bread is $3 extra, but worth more.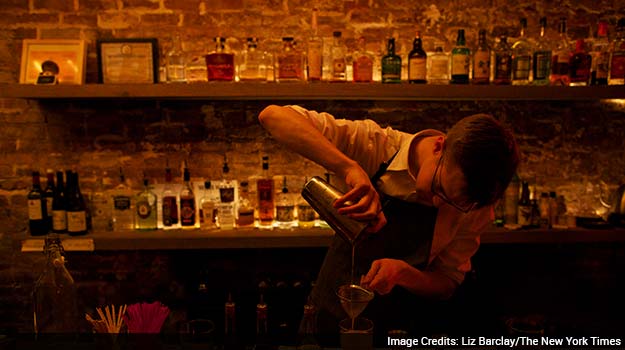 138 Orchard St. (Rivington Street), Lower East Side; 212-466-4633
8. Dirty French
Rich Torrisi and Mario Carbone's strategy at their latest restaurant is to splatter classic French cooking with non-French spices and flavors, and when it works you get dishes so original and unexpected they almost make you dizzy. The two chefs seem to question everything when they're building a new restaurant; with this one, they asked whether antiques like silver punch bowls (for oysters) and carafes (for red wines, even ones that don't need decanting) could add an edge of celebratory decadence that feels right for these times. The answer is yes. They have too many ideas, and excess can be their downfall; the menu needs pruning, the prices are borderline hostile and the room is probably too large and raucous to guarantee a good time for everyone in it. Still, I can say without thinking twice that some of the most extraordinary food I ate this year came from the kitchen of Dirty French.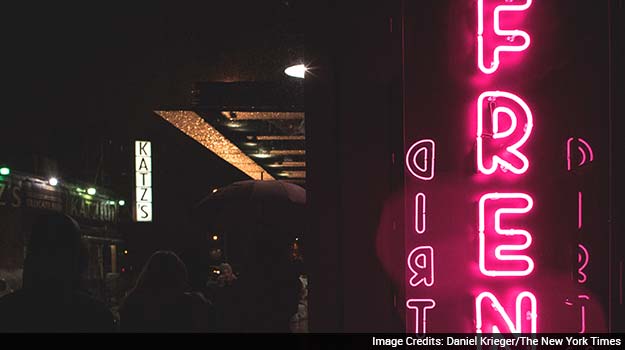 180 Ludlow St. (East Houston Street), Lower East Side; 212-254-3000
9. Gato
Too often, the reward we get for treating our chefs like celebrities is a menu that seems to have been texted from a first-class lounge at the Aspen airport. Bobby Flay didn't do that with Gato. He chases vivid, intense flavors as if they hold the secret of eternal youth. The food, nominally Mediterranean but cooked with all-American enthusiasm, piles up salt, acid, char, smoke, spice and every other trick Flay knows, and he knows a few. A few dishes seem overdressed, but more often the result is a giddy kind of sensory overload. Out of the kitchen, Flay demonstrates restraint; the tables aren't jammed together, and the wine list shows a rare mercy to customers who want to spend less than $50 a bottle. Manhattan could use more places like that.
324 Lafayette St. (East Houston Street), NoHo; 212-334-6400
10. Bar Bolonat
Contemporary Israeli food is the idea, which means a multiethnic mix of seasonings that the chef, Einat Admony, grew up with in Tel Aviv. The shrimp in a coconut-turmeric curry is Yemenite, the stew of green herbs with house-made couscous and braised short rib is Iranian, and the fried cauliflower with tahini is decorated with Bambas, a peanut-puff snack that Israeli children feast on. Bar Bolonat is getting better as it goes along, too, dampening the noise while turning up the flavors.
611 Hudson St. (West 12th Street), West Village; 212-390-1545
The Dishes That Defined the Year
The hot roast beef sandwich at Bar Primi - Thinly sliced meat with hot pepper sauce and provolone on a sesame roll isn't meant to be the centerpiece of a formal dinner. Eating it should be a spontaneous act: You're on the Bowery, you see that there's no line, and you strike like a Predator drone.
Chicken schnitzel at Batard - The restaurant keeps this dish unlisted, making servers introduce it as an addition to the menu - every night. It must be some private joke. The schnitzel, though, a breaded breast of poussin with potato salad, two fruit sauces and a fried drumstick for good measure, is not a joke.
Prime rib at Cherche Midi - The enormous piece of meat with extras and a high price has become a favorite restaurant trick. Most feel like thinly disguised attempts at pickpocketing. The considerable prime rib with pommes soufflés and a nothing-fancy green salad feels like an event.
Mushroom mille-feuille at Dirty French - Not a pastry but an elegant mushroom terrine, with buttery, tender stems of king trumpets folded and folded, layer after layer. The stems unwind into ribbons, and you swipe them in green coconut curry.
French onion soup at M. Wells Steakhouse - Everything you want in a French onion soup, and one thing you didn't know you wanted: a marrow bone, speared with a spoon and plunked in the middle of the bowl.
Sashimi with Japanese chimichurri at Cagen - The bright, fresh, spicy green sauce served with sliced raw fish - made from shiso, wild ginger, jalapenos and yuzu - is one of those rare fusion recipes that feels not just natural but also inevitable.
Bucatini with smoked uni at All'onda - Even if you are experiencing uni fatigue, this bowl of pasta is worth a taste just so you can experience a carbonara made from sea urchin.
Octopus with XO sauce and brown-butter espuma at Tuome - The XO sauce is a complicated jumble of sweet and savory, crunch and chew, pork and seafood. The espuma is the opposite: a smooth, rich wave of foamed butter. What they do when they meet is the secret of this dish.
Pizza with potato carbonara at Marta - Two Roman treats in one, an ultrathin-crust pie in the style of Rome, topped with crumbly potatoes treated as if they're spaghetti carbonara, with egg, pecorino and crisp frills of guanciale.
© 2014, The New York Times News Service