Nigel Slater, guardian.co.uk, Modified: April 19, 2013 16:09 IST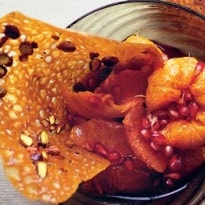 In this extract from Kitchen Diaries II, Christmas Day recipes for roast goose and a hot salmon, and leftovers for Boxing Day.


Roast goose with chickpea and lemon stuffing
Serves 8-10
a goose
5kg or thereabouts
For the stuffing
large onions
2
goose fat or oil
a little
canned chickpeas
800g, drained
mint leaves
10g, chopped
lemon
1, zest and juice
meat from herby butcher's sausages
1 kg
Peel and roughly chop the onions. Melt the goose fat or warm the oil in a large frying pan, then add the onions and let them cook, stirring regularly, till they are a light walnut brown. Stir in the chickpeas, let them warm through, then partially crush them with a potato masher. Crush so you have some thickly mashed while others keep more of their texture. Season with salt, the mint and the lemon zest and juice, then stir in the sausage meat and season with pepper (or mix with your hands).
Set the oven at 220C/gas mark 7. Put the goose in a large roasting tin, stuff as much of the chickpea mixture as you can into the body cavity, then make the rest into balls or patties and place in a lightly oiled roasting tin.
Roast for 30 minutes, then lower the heat to 180C/gas mark 4 and continue cooking for about 2½ to 3 hours, until the skin is dark and crisp.
Leave the goose to rest for a good 15 minutes before carving, taking great care with the hot fat in the tin. Serve with the stuffing.
A hot salmon for Christmas
Serves 8
a puff pastry sheet
375g
a whole salmon
about 2.8kg, skinned and filleted into 2 long fillets
a little beaten egg and milk
for brushing
For the filling
medium cucumbers
2
dill
50g, weighed with stalks
Dijon mustard
5 tbsp
honey
2 tbsp
white wine vinegar
1 tbsp
Make the filling. Lightly peel the cucumbers, removing only the thickest layer of dark green skin. Halve them down their length, then remove the seeds with a teaspoon or your thumb. Finely chop the dill. Chop the cucumbers into small pieces, roughly 1cm square, then put them in a mixing bowl with the mustard, honey, vinegar and dill. Season and set aside.
Roll the puff pastry sheet out to a rectangle about 40cm x 30cm, making certain it is a little longer than your salmon fillets. Put the pastry on a baking sheet lined with baking parchment. Set the oven at 180C/gas mark 4.
Place one half of the fish on the pastry, pile half the filling on top, then cover with the second fillet of fish. Brush the edges of the pastry with egg wash, then fold the pastry over the fish, sealing the edges that meet by pressing them together. There should be a gap in the centre through which you can see the fish. (If you have a mind to, you could decorate your fish with bits of pastry for scales. Up to you.)
Brush the pastry with egg wash and bake for 45 minutes. Slide on to a serving dish and leave to settle for 10 minutes before serving with the remaining cucumber mixture as a cold accompaniment.
Potato and onion sauté
A little something to go with the salmon, above.
potatoes
650g
onions
250g
butter and oil
a little
Scrub the potatoes, but there is no real need to peel them. Cut them into thick slices or small cubes, whichever you fancy. Peel and finely slice the onions. Warm a little butter and oil in a non-stick frying pan, then add the potatoes, onions and seasoning and cook over a moderate heat for about 25 minutes, till they are lightly crisp on the outside and soft inside.
Clementines and pomegranate
To please those who want something fruity to finish their meal, I peel half a dozen clementines, peel and slice a couple of very ripe mangoes and slice three blood oranges. I break open a pomegranate, covering the kitchen walls and my shirt with scarlet juice, and crack it into seeds, discarding every last bit of bitter white pith. I mix the fruits with the juice of a second pomegranate, chill very thoroughly and serve. The fruits would benefit from something crisp at the side - in other words, the brandy snaps below.
Brandy snaps
Makes 12 or 15 large biscuits
caster sugar
2 tbsp
golden syrup
2 heaped tbsp
butter
60g
plain flour
4 tbsp, generously heaped
ground ginger
1 level tsp
brandy
1 tsp
pistachios
2 heaped tbsp, chopped
Set the oven at 150C/gas mark 2. Very lightly butter a baking sheet. In a small pan, melt the sugar, golden syrup and butter. As soon as the mixture starts to bubble, remove from the heat and stir in the flour, ginger, brandy and pistachios.
Using a teaspoon, place six blobs of the mixture on the buttered baking sheet, each about the size of a large walnut half. There is no need to flatten them, as they will spread naturally in the oven. Bake the biscuits for about 10 to 12 minutes, until they are a rich golden brown. Leave them on the baking sheet for 5 minutes, until they are cool enough to roll. Holding the baking sheet with an oven glove and using a palette knife in the other hand, loosen each biscuit from the tray one at a time - they should still be hot. If the biscuit tears, then leave to set a little longer. Wrap each biscuit round a rolling pin with your hands, gently pressing the biscuit to fit the rolling pin. Work quickly, as the biscuits won't roll once they have completely cooled. Remove each snap once it has set and leave on a cooling rack. Bake the remaining mixture and shape in the same way.
Boxing Day

St Stephen's Day, which can be today or tomorrow depending on which calendar you use, is the day those working "below stairs" would open their presents and count the tips box, while "upstairs" made do with a simple buffet of soup, stew or cold cuts. As a cook, I have always felt more comfortable below stairs, and relish the thought of getting to pick at the bones of the goose or turkey (or chicken or ham or duck) and turn the nuggets and scraps of roast flesh into lunch.
There is much sweet satisfaction to be had in picking the bones clean and boiling them up for a light stock. Stock made from roasted bones can lack body, but adding the scrapings and meat jelly from the roasting tin or carving plate will enrich it.
I start at the breast, pulling any large pieces away whole, then gradually pull and tug every piece of meat from the breast and legs before turning the skeleton over and starting on the undercarriage. Here lie chubby oysters of brown meat, kept sweet and succulent by the juices that trickle down to the base of the bird as it cooks. A glorious feastall too easy to miss.
In years past, my leftovers from the bird have ended up under a pastry crust (in a tarragon sauce, padded out with onions and mushrooms), as an onion and potato frying-pan hash and in the inevitable curry. This year's leftovers are probably the best ever. Mashed potato, a little stuffing, bits and pieces from the goose and some red cabbage cooked with apple. A Christmas bubble and squeak. Perhaps that should be bauble and squeak.
Extracted from The Kitchen Diaries II by Nigel Slater, Fourth Estate, RRP £30. To order a copy for £19.99, with free UK p&p, go to
guardian.co.uk/bookshop
Picture: Clementines and pomegranate with Brandy snaps. Photograph: Jonathan Lovekin