Recipes Using Leftovers Becoming Popular in Japan
PTI | Updated: August 26, 2013 13:36 IST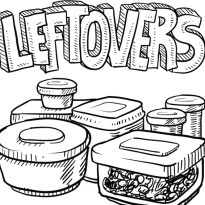 Recipes using leftovers have been growing more popular in Japanese homes, as they help
homemakers reduce the amount of food they waste and save time in cooking.

Expecting this trend to contribute to boosting sales of their products, food manufacturers have been moving to promote recipes using leftovers on their websites and through TV
commercials.

"Soy sauce and mayonnaise go along very well," Yoko Kubota, a company official from Noda in Chiba Prefecture said about a salad she made from a recipe book using leftover simmered
dried radish with salted cucumbers, topped with mayonnaise and sesame. The salad has become one of her daughter's favorites and has also won a good response from viewers on Cookpad, one of Japan's popular recipe-posting websites.

"What I like is that I can enjoy with my family refashioning leftovers into an entirely new meal that no one would have thought of," she said.

Another popular recipe on the Cookpad site is a pancake using leftover rice, created by Seiko Tabata, a craft artist from Akishima in Tokyo. To make the pancake, you just need to mix the rice and flour with water, bake it on a pan and dip it in soy sauce mixed with sugar. It can be either a dish for dinner or a snack for children, she said.

Tabata regularly uses up leftovers and even what would usually be thrown away such as vegetable peel. "If you try not to waste any food or ingredients, you can reduce the amount of kitchen garbage and also save on your food budget," she said.

As of late July, the number of recipes posted under the leftovers category stood at nearly 8,000, according to Cookpad Inc, operator of the website. Among particularly popular recipes are those using curry and "nikujaga" -- simmered meat and potatoes -- and other meals that are usually made in large quantities and cannot be eaten at once.

Yuko Maruyama, director of the public relations department at Cookpad, said, "The number of searches for recipes using leftovers is greater during weekdays than weekends, which apparently indicates that people want to prepare such dishes during weekdays when many of them are busy.

"Food manufacturers have also jumped on the bandwagon. Ajinomoto Co started airing TV commercials in the fall of 2011 for recipes using leftovers with the company's consomme
stock cubes.




For the latest food news, health tips and recipes, like us on Facebook or follow us on Twitter.