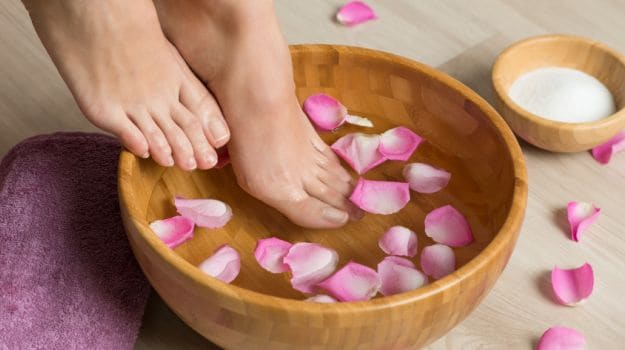 Photo Credit: Istock
3. Cracked Heels
I constantly receive requests for
natural remedy for cracked heels
. But honestly, one just has to be regular with a foot care program by using a loofah and keeping the feet well moisturised and clean at all times.
However, here's a really easy remedy –
1. Clean the feet well with a pumice stone and nail brush and pat dry.
2. Massage the feet well with a heavy duty cream or sesame and sandalwood oil until the skin has absorbed most of it.
3. Melt a candle in a double boiler and when slightly cool, brush it on the heels and allow it to solidify.
This remedy is best followed at night. Put on cotton socks and go to bed. In the morning, remove the socks and peel off the layer of wax. Follow it daily for a week and you will find a huge difference in the way your feet look and feel.
4. Chipped Nails
For those of you suffering from chipped nails, mix 1 tsp of gelatine with half a glass of water and drink it daily for two weeks. Besides this, keep the nails short and well-trimmed to strengthen the base. Long toe nails not only look awful, but can be quite painful in closed shoes.
Let your nails breathe and if at all they have turned yellow due to regular use of nail colour, please let them breathe. A quick tip: rub lemon slices on the toe nails daily and allow the juice to soak in. You will find them coming back to their natural healthy colour in no time.
Now that you have some wonderful foot pampering tips in your beauty book, start right away today. Try these tips and let us know how you liked them.