We are well into the festive season of the year and the joy of festivities has masked our fears of the ongoing pandemic. With the festival of Navratri coming to an end, the nation is already gearing up for other big festivals of Dussehra and Durga Puja. Dussehra (or Vijaydashmi) culminates the nine-day Navratri festival and coincides with the Bengali festival of Durga Puja, leading to Diwali that is celebrated after 21 days of Dussehra every year. All these festivals are celebrated with much enthusiasm all over the country with everything lit up and buzzing around us.
Navratri Dussehra 2020 Date, Puja Timing
Dusshera is celebrated on the tenth day of Ashvin or Kartik months of the Hindu calendar. This year, Dussehra will be celebrated on Sunday, October 25, 2020.



Vijay Muhurat - 01:57 PM to 02:42 PM
Duration - 00 Hours 45 Mins



Bengal Vijayadashami: Monday, October 26, 2020


AparahnaPuja Time - 01:12 PM to 03:27 PM


Duration - 02 Hours 15 Mins



Dashami Tithi Begins - 07:41 AM on Oct 25, 2020


Dashami Tithi Ends - 09:00 AM on Oct 26, 2020



Shravana Nakshatra Begins - 01:28 AM on Oct 24, 2020


Shravana Nakshatra Ends - 02:38 AM on Oct 25, 2020


(Source: drikpanchang.com)



(Also Read: 10 Bad Food Habits to Banish This Dussehra)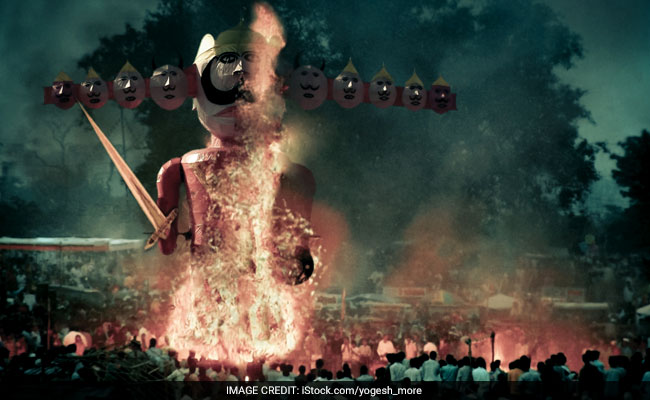 The effigy of Ravana is burnt on Dussehra festival.
Dussehra 2020: History And Significance
Dussehra commemorates the victory of Lord Rama over king of Lanka, Ravana, in the historic battle of Ramayana. Lord Rama defeated Ravana and rescued his wife Sita from his captivity. The word Dussehra comes from two Sanskrit words - 'dasha' that symbolises the ten heads of Ravana, and 'hara', which mean ' to defeat'. Dussehra signifies the 'triumph of good over evil'.
To mark the victorious occasion, large effigies of Ravana, Kumbhakarna (Ravana's brother) and Meghanad (Ravana's son) are burnt in the evening. It is said that while you set afire the effigies of the mythological demons, you also abolish the demons living inside you.


As per the Hindu customs, Ram Leela, a theatrical play enacting the story from the epic of Ramayana, is played during the nine days of Navratri leading to the battle of Ramayana on the day of Dussehra.


(Also Read: 10 Amazing Dussehra Recipes To Savour This Festive Season)
Dussehra 2020: Foods To Celebrate The Festival
Many devotees offer bhog to Lord Rama for puja at home. North Indians make chawal ki kheer, gur ke chawal, boondi ladoo among other desserts for the prasad.


'Kadakani', a sweet and savoury dish, is paired with green chilli chutney and served to family and guests in Maharashtra.


Bengalis make their signature sweet treats of sandesh, rajbhog, payesh and more.


In South India, payasam is commonly made to celebrate Dussehra.


Happy Dussehra 2020!
About Neha GroverLove for reading roused her writing instincts. Neha is guilty of having a deep-set fixation with anything caffeinated. When she is not pouring out her nest of thoughts onto the screen, you can see her reading while sipping on coffee.