35 percent of the Adult Indian Population Consumes Tobacco
NDTV Cooks | Updated: May 31, 2014 16:14 IST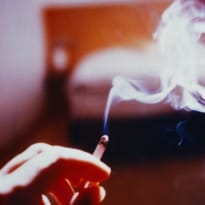 According to a recent survey conducted by the Global Adult Tobacco, nearly 35 percent of the adult Indian population consumes some form of tobacco. As per the Global Youth Tobacco Survey 2009, 14.6 per cent of those ageing between 13-15 years in India were using tobacco. Ayurvedic medicine experts say that while addiction to tobacco consumption cannot be stopped suddenly, it can certainly be reduced gradually.

"The main Ayurvedic psychological approach towards quitting smoking or other addictions is to not stop all of a sudden but to reduce in gradual steps. The idea is to notice everything about the act," said Dr Vyanketesh Joshi, MD Ayurveda and Chief trustee, Siddh Dhyan Foundation.
"Increased attention should be given to all sensations, sounds and smells while consuming tobacco. If this is practised with total dedication, consciousness will do the rest all by itself," he added.

Dr Meghna Shah, Dean of Homoeopathic institute 'The Other Song' in Mumbai, recommends help from a professional homoeopath for "constitutional remedy" for those intending to quit tobacco. She says this remedy has the potential to strengthen a person both physically and psychologically. "There are even some homoeopathic remedies that make the person develop distaste for tobacco," she Shah .
World No Tobacco Day is observed every year on May 31 and intends to encourage a 24-hour period of abstinence from all forms of tobacco consumption across the globe, which currently leads to 5.4 million deaths worldwide annually.

Inputs from PTI