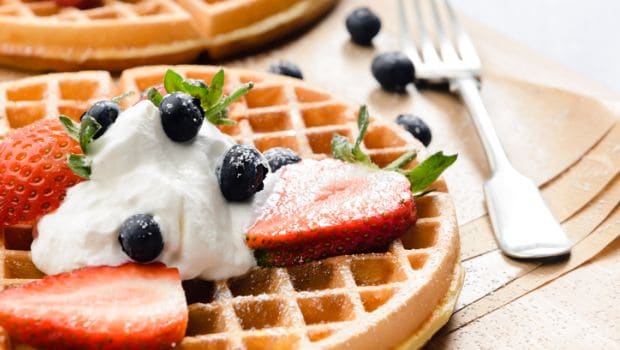 Crisp and firm or soft and moist, there is something about a waffle that always charms us. Leavened batter or dough cooked between two plates or patterned in its characteristic shape of hollow cavity and blocks, waffles are taking over the country and how. Relished with both sweet and savoury toppings, the American breakfast staple is fast becoming a favourite in Delhi's food circuit and we can't be more excited about it. If you can't get enough of the dough-y goodness, we have listed 8 best places in the city where you can dig into the best of waffles in town. Choose from the many variety of toppings from classic maple syrup to hazelnut chocolate spread to crispy chicken chunks and enjoy!

1. Wafflesome

The cutesy Greater Kailash outlet is where all the waffle-lovers are headed to these days. If the sweet aromas wafting through the tiny spot wasn't tempting enough, the sight of freshly made, crispy waffles gets us hooked each time. Choose from the many flavours of indulgent topping such as mango, salted caramel, blueberry and banana toffee. We personally love the one with Nutella and Crushed Nuts.

Where: M-33, Near M Block, Behind YES Bank, Greater Kailash I, New Delhi, Delhi 110048​


2. Waffle ChowkCooked to crispy perfection, Waffle Chowk's waffles have caught the attention of dessert lovers across Delhi -NCR with its multiple outlets. In addition to waffles, they also offer interesting waffle-inspired dishes like a waffle sandwich and a waffle stick. Tempting flavours like classic maple syrup, white chocolate chip, Chocolate chip, gems, mango, banana toffee, Nutella brownie, and Nutella strawberry are sure to leave you all spilt for choices!

Where:15, N W Ave Rd, West Punjabi Bagh, Punjabi Bagh, Delhi, 110026​


3. Wengers

With its classic array of desserts and snacks, Wengers has managed to be the ultimate pit-stop for dessert mongers from the pre-partition era. Having stood the test of times, it is natural for the classic joint to have nothing short of classic desserts on offer. The waffles are no different.

Where: A16, Rajiv Chowk, Connaught Place, New Delhi, Delhi 110001

4. Elma's Café

From the sinful mudcakes to the decadent blueberry cheesecakes, Elma's has them all to satisfy your sweet cravings. And for the special waffle cravings, Elma's has the most delicious range to pick and choose from. Red velvet, Belgian chocolate, Raspberry and cream, Lemon poppy seed lemon poppy seed and chocolate walnut and banana! Hmm, you're probably drooling already.

Where:31, 2nd Floor, Hauz Khas Village, New Delhi, Delhi 110016​

5. Rose Café

This quaint and cosy café straight out of your favourite Victorian novel whips up some delicious waffles with a perfect European panache. Crispy yet gooey, the lovely and aromatic waffles are instant mood lifters. Have them with dark chocolate gelato, or with chocolate ganache and vanilla ice cream, or citrusy lemon curd and whipped cream, or the ever-so decadent caramel sauce and vanilla ice cream, either way you are guaranteed to head back home all smiles.

Where:2, Westend Marg, Saiyad Ul Ajaib Extension, Behind Saket Metro Station, New Delhi, Delhi 110030​


6. Depot48

Depot48's signature Belgian waffles with the choice of Butter and Maple syrup, Banana and toffee sauce, or Chocolate Gianduja with caramelised nuts is a one indulgent treat we are always up for. Oh did we tell you all their waffles are served with a scoop of lip-smacking vanilla ice-cream? Hallelujah!





Where: N 3, Level 2, N Block Market, Greater Kailash (GK) 1, New Delhi




Waffle-lovers in the house unite! Go visit these amazing places to have the best waffle experience in town.





About Sushmita SenguptaSharing a strong penchant for food, Sushmita loves all things good, cheesy and greasy. Her other favourite pastime activities other than discussing food includes, reading, watching movies and binge-watching TV shows.