Crisp from the outside and soft from the inside, waffles are taking over the country and how! A plethora of cafes have opened these days that serve
waffles
as their speciality. There is no denying the fact that waffles have now created a storm in the culinary sphere. If you happen to be a waffle lover and wish to make those restaurant-style waffles in the comforts of your kitchen, then this article is for you. You can experiment with the delight by adding chocolate sauce,
maple syrup
, blueberry sauce and more. Waffles can easily be prepared at home, provided you have a good quality waffle iron at home and the batter is proportionately prepared. Here are a few simple steps that you can follow to make perfect restaurant-style waffles at home. Read on to know more about them.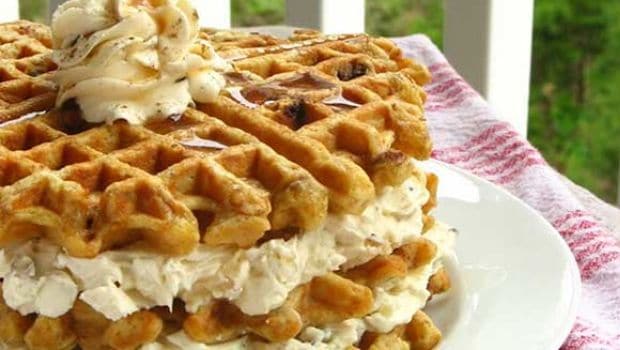 ( Also Read:
Don't Pass the Syrup: 5 Savoury Waffles We're Craving, Right Now
)Ingredients Required1 cup of flour
2 teaspoons of baking powder
1 egg
One-fourth teaspoon of salt
One-eighth cup of sugar
half teaspoon of vanilla
One-fourth cup of vegetable oil
1 cup of milk
Note:
Make sure you have a good quality waffle iron at home. The waffle iron should be hot and ready to go.

How To Make Restaurant-Style Waffles?Step 1.
To prepare the waffles, the very step is to grease the waffle iron properly. This step is of utmost importance to make sure that the batter does not stick to the waffle iron.
Step 2.
Add the dry ingredients in a large bowl and sift them together. This is done to ensure that there are no big lumps or particles left in the dry ingredients.
Step 3.
Separate the egg white and add it in a separate bowl. Beat the egg white until stiff peaks form.
Step 4.
In a separate bowl, add the egg yolk, oil, milk and vanilla and stir slightly. Once this is done, add this mixture to the dry ingredients and mix well. Then fold in the egg white mixture.
Step 5.
Pour the waffle batter in the waffle iron and cook on medium-high heat for around 5-10 minutes.( Also Read:
6 Best Waffle Places In Delhi You Must Try
)Restaurant-style waffles are ready to be served and savoured. You can top it up with chocolate sauce and whipped cream. Go try this right away!
About Deeksha SarinAn eccentric foodie and a die-hard falooda lover, Deeksha loves riding scooty in search of good street food! A piping hot cup of adrak wali chai can make her day bright and shiny!