A wholesome breakfast works like a fuel and instant energy booster. It is a meal that brings a fitting end to the night-long fast. Many experts and nutritionists have been touting about the importance of a good breakfast meal. However, many of us skip or forget breakfast because of our work life and other hectic schedule. Taking out time to prepare a wholesome and lavish breakfast may not be possible. Hence, here we bring you 5 Spanish breakfast recipes you can prepare in the morning and that too within a matter of minutes. So, if you're looking for a way to jazz up your morning meal, these Spanish breakfast recipes are just the right way to do that.


In terms of breakfast, people mostly think "the more, the merrier''. However, a Spanish breakfast meal is not basically a wholesome menu like other hearty dishes in the Spanish cuisine. Breakfast in Spain includes very basic and easy recipes such as omelette, hot chocolate, orange juice and more.
Here's A List Of 5 Spanish Breakfast Recipes You Must Try:
Our Recommendations:
Spanish Omelette
A delicious Spanish recipe, this is a traditional dish called Tortilla de patatas, this Spanish omelette recipe is a winner at the breakfast table. In this recipe, ingredients like potatoes, egg and onion are sauteed together in olive oil and butter, this can be cooked with such simple ingredients and in a jiffy for breakfast. Find the complete recipe here.
Spanish Style Coffee (Café con Leche)
Here we bring you a very strong and easy recipe to make coffee. To make café con Leche, a shot of espresso is dosed with steamed milk. This hot beverage is very much similar to America's cafe latte.
Hot Chocolate
Hot Chocolate lovers, raise your hands! Let's agree, there's nothing more comforting than a warm cup of hot chocolate. Whether you like it sweet or boozy, chocolate-y or mild-y, we've got you covered. Go on, up your hot chocolate game with this recipe. Click here.
Other Recipes:
Churros
Churros are sweet and crunchy, fried golden strings of snack that originated in Spain and Portugal but are now popular all across the globe. There are many varieties of churros found across the world but the most common churros recipe remains the classic one, topped with cinnamon and sugar. Click here.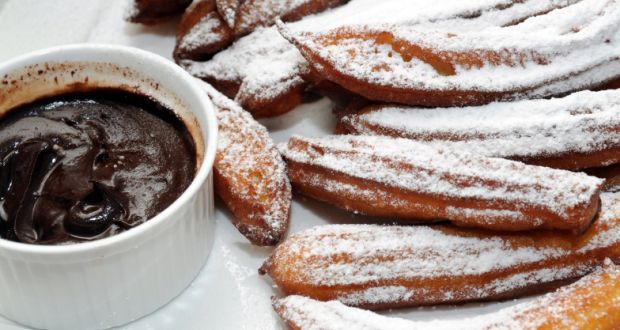 Bocadillos
The bocadillo or bocata, in Spain, is a sandwich recipe. It is made with Spanish bread, usually a baguette or other bread similar to baguette, cut lengthwise.


Note: Spanish breakfast is also loaded with different varieties of fresh fruit juices. For example, orange juice and more. For juices recipes, click here.


Try these easy-peasy breakfast recipes and let us know how they turned out in the comment section below. Stay healthy and happy!