Healthy Breakfast Recipes- Amidst the busy lives that we lead, it's very common to skip the morning meal. For some of us, it's usually breakfast-on-the-go. A quick cheese sandwich or a packet of cookies is what one would reach out for but what we do not realize is how important it is to start off your morning with a healthy breakfast. Mornings can be the most stressful hours of the day, which make it all the more necessary for you to whip up an elaborate healthy breakfast.

During those 8-9 hours of sleep at night, your body continues to run its functions and use up all the energy produced during the day. Once you wake up the next morning, you need to refuel your body. Starting your day with a healthy breakfast can keep your energy as well concentration levels up. Skipping breakfast will not only make you feel fatigued through the day but also lead to untimely cravings and overeating during other meals.


We'd like to present you with our best breakfast recipes that are made with healthy ingredients. from smoothies, spinach pancakes, wheat bread to uttapam, we have got you covered with all things healthy. No refined flour and unnecessary fats, these recipes are made with fresh fruits and veggies, protein packed lentils and eggs, super foods like oats and mushrooms and healthy grains like bran and ragi.
Here's a list of 15 best breakfast recipes that are hard to skip and will keep you charged through the day:
Muffins are a breakfast favourite. Why give up on them when we can show you how to make them the healthy way? This recipe uses wheat bran cereal, whole wheat flour, low fat milk and brown sugar for the batter. Most importantly, it substitutes the fat with freshly made apple sauce.

Delicious muffins made the healthy way with wheat bran, milk and apple sauce.
Breads are breakfast staples. But, what we don't realize is that most breads use refined flour which is high on carbs and devoid of any nutrients. Here's a simple solution, this banana and oat bread replaces all that is bad for you with all that's good.
The perfect recipe to cook at home, filled with the goodness of oats!
This wholesome meal consists of pancakes made with whole wheat flour, milk, yogurt and spinach with a mushroom and cheese filling. A great option for breakfast, brunch or even to pack for tiffin.
You wouldn't be disappointed with these heavily stuffed pancakes served with fresh tomato salad.
A power drink that will shoot up your energy levels instantly. Fresh fruits, milk, honey and oats come together to make this energy booster. Kiwi is a tangy and sweet fruit that has numerous benefits and when this is combined with fruits like papaya, melon and grapes, it only enhances the nutritious value of this smoothie.
A powerhouse of nutrients, this melon and kiwi smoothie is perfect for boosting energy in the middle of the day.
For all the bread lovers, this recipe will be your life long companion. It uses healthy ingredients like ragi, jaggery, whole wheat flour, yogurt and spinach. Ragi and spinach together, are one of the most powerful ingredients that provides ample amount of nutrients like Iron, Vitamin A and Fiber. Need we say more?
Here's a protein packed breakfast for you. An omelette made with egg whites, chunks of chicken and the goodness of mushrooms.
A power packed egg breakfast to start your day with, for an energized day.
This breakfast recipe is worth waking up for. The goodness of apples and oats fuses with the aroma of nutmeg and cinnamon. Oats being rich in carbs and fiber apart from being rich in proteins, making this dish a must try.
A nutrient rich crumble dish with goodness of apple is sure to give your day a lovely start.
We get that a salad for breakfast might be unusual but once you try this delicious recipe, we promise there's no going back. You've got chicken sausages, lettuce, eggs, tomatoes and a gorgeous honey mustard dressing.

A tasty and packed with nutrition salad recipe with a sweet and sour dressing.
It's time to crack one open. Breakfast is incomplete without delicious eggs which is why we bring you a delicious recipe of baked eggs which is easy and quick, made in just 30 minutes with a handful of ingredients.



Pair with a slice of bread to relish this dish of baked eggs to its fullest.
Indulge in a breakfast bowl packed with fiber and protein. Fruit, juice, a dash of lime, oats, yogurt, honey, almonds, raisins and a bit of jaggery. It's exactly as healthy as it sounds. This fruit bowl combined with muesli will keep you full for long.
A bright and healthy way to start your day, this fruit bowl is packed with all things nutritive and delicious.
Uttapam is a delicious southern delight that is easy, quick and fuss-free to cook. This recipe is made with oats which makes it a healthy breakfast option which is fulfilling and satisfying. Oats are incredibly nutritious, packed with fiber and other essential nutrients. Once tried, you wouldn't need any more reasons to cook this everyday.
High on fiber, satisfying to the appetite, Oats uttapam is your comfort breakfast.
A nutritious, fulfilling and healthy breakfast, here's a recipe of no bread sooji toast!
This healthy recipe for egg muffins is an easy grab and go option for busy mornings. It is loaded with healthy and fresh veggies, meat and spices of your own choice.


Easy and quick to make, this low calorie oats idli recipe is just perfect for a good and healthy breakfast or brunch at home.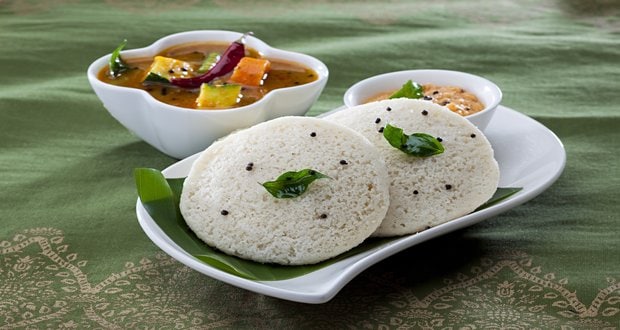 We have managed to bring paneer to the American classic breakfast dish pancakes, to give these fluffy, healthy and delicious paneer pancakes.


A whole lot of options to choose a healthy way to begin your day!