If you have eaten out too much, and you're craving for something home-cooked yet delicious, you may consider grilled stuffed vegetables are the way to go. Hollowed-out vegetables filled with spicy and flavourful stuffing that are either grilled or baked make for a wholesome dinner. The wonderful thing about these recipes is that they maintain the original texture of the dish, be it crunchy or chewy. What's more -the stuffing makes the dish an additional layer of yummy! You can have stuffed vegetables as snacks, pair it with rice or naan as a side dish; or incorporate them into a tomato or curd-based gravy.
Here Are 5 Stuffed Vegetable Recipes To Try At Home:
1. Stuffed Mushroom
Mushroom in itself is a delightful vegetable that can double as a snack and a main course too. This stuffed mushroom recipe is perfect because it has mushrooms stuffed with corn and cheese, which go together perfectly. Grilled mushrooms can be had whole or with a dipping sauce of your choice.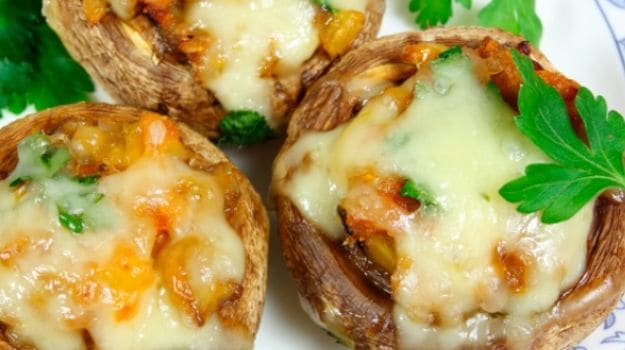 Who knew stuffed mushroom could be so awesome?
2. Stuffed Parwal
Before you make up your mind about this less-known and slightly boring vegetable, consider this recipe. Parwal stuffed with potatoes and roasted coconut is an unlikely dinner, but once you eat it, there is no coming back.
Parwal gets a new edge with this interesting stuffing.
3. Stuffed Zucchini
This can be made even as an appetizer, you can also have it curried or serve it as a main course. The crisp texture of the zucchini is perfectly complemented with the chewy soya that it is stuffed with. Dinner doesn't get easier, healthier and tastier than this.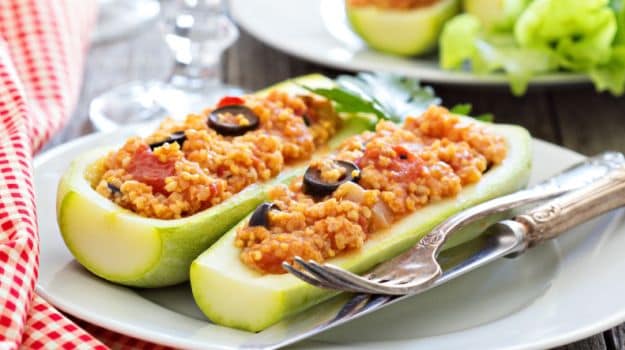 Zucchini becomes awesome when stuffed with soya.
4. Stuffed Tomatoes
Tomatoes in themselves burst with flavour. Although they may seem difficult to stuff due to their soft nature, this mixture of beans, corn and cheese goes so well with tomatoes. Stuffed tomatoes can also be made into a curry and served hot with naan.
Stuffed tomato is zingy and tasty.
5. Stuffed Capsicum
Capsicum, or even yellow or red bell pepper, adds as a good base for stuffing veggies, cheese or herbs. Potato or cheese would be the regular stuffing for capsicum, but this delightful recipe stuffs capsicum with cabbage and carrots to give a satiating dish.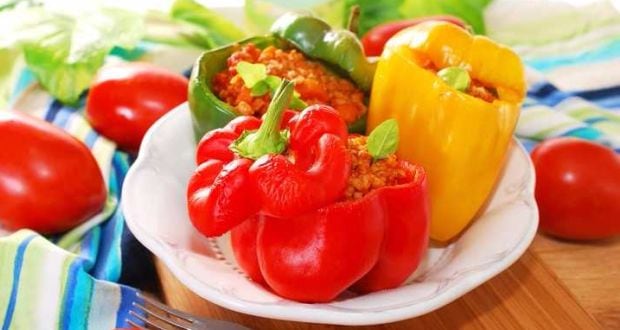 Capsicum stuffed tastes good like never before.
So if you're feeling experimental at home and want to try your hands at making something new, these stuffed vegetables could be your go-to recipes. They are healthy, delicious, and they will definitely leave everyone asking for more!
About Aditi AhujaAditi loves talking to and meeting like-minded foodies (especially the kind who like veg momos). Plus points if you get her bad jokes and sitcom references, or if you recommend a new place to eat at.