Story Progress
Back to home
Zucchini Stuffed with Soya Recipe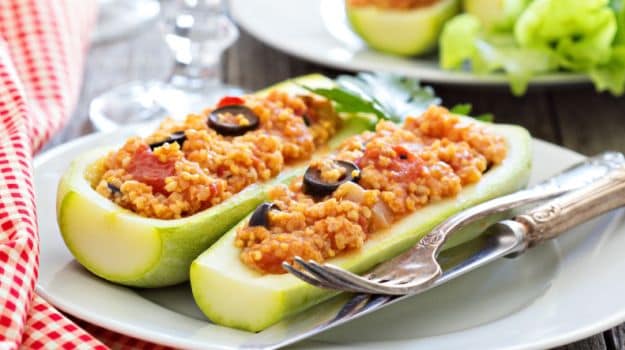 How to make Zucchini Stuffed with Soya
Zucchini Stuffed with Soya: A palatable appetizer. Zucchini halves stuffed with a soya-spice mix, baked till crunchy and crispy.

Ingredients of Zucchini Stuffed with Soya
1 green zucchini boiled
100 gm soya kernels soaked
1 Tbsp ginger garlic paste
1 tsp garam masala
1 tsp coriander powder
1 tsp cumin powder
1 green chilli finely chopped
2 Tbsp oil
Handful fresh coriander leaves.
Salt to flavor
1 tsp lime juice
Fresh coriander leaves for garnish
1.
Soak the soya in warm water for about half an hour. After half an hour, rinse it three four times so that it becomes soft.
2.
Cut the boiled zucchini into 2 halves along the spine and scoop out some of the meat.
3.
In a bit of oil saute the ginger garlic paste and green chillies.
4.
Then add the soya granules along with the spices and coriander leaves and stir-fry quickly till its cooked.
5.
Finish with lime juice and coriander leaves.
6.
Take the soya mixture and fill it in the zucchini boat and bake inside the oven on a greased tray for not more than 5 minutes till it looks crispy and serve hot.