Baisakhi is a festival that celebrates a good harvest and marks the Punjabi New Year. Baisakhi today is celebrated with pomp and show and not to forget the
melas
(fairs) where you cannot stop yourself from eating all sorts of authentic Punjabi food. What is celebration without something sweet to savour, wouldn't you agree? Punjabis are known for their binge eating and we will not disagree that Punjabi food is hard to resist. Baisakhi festivities start with meet and greet with family and friends and amidst all the laughter and fun, sinful Punjabi desserts make way for our palates.
To give you the essence of Baisakhi 2017, we bring you some lip-smacking desi recipes that will melt in your mouth to make your Baisakhi even better!
1. Meethe Peele Chawal
Recipe by Chef Siddhartha Roy, Junior Sous Chef, The Taj Mahal Hotel, New Delhi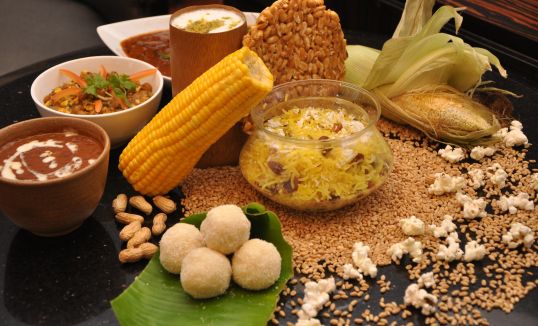 Ingredients:
Basmati/ Golden Sela rice (soaked) - 1 cup
Sugar- 1- 1/4th cup
4 cups water
Lemon yellow food grade color- 1 tsp (optional)
Saffron- 1 gm
Bay leaf- 2
Green cardamom- 4-5 cloves
Cloves- 2-3
Blanched almonds- 25 gm
Raisins- 20 gm
Cashew nuts- 20 gm
Desi ghee- 100 gm
Coconut fresh grated- 20 gm
Silver varq- to garnish
Dough- to seal
Rose water - to sprinkle
Preparation:
Bring the water to a boil with bay leaf, cardamom and cloves and add the soaked rice, yellow color. When it comes to a boil, lower the heat and simmer, till the rice is almost cooked (about 12 minutes, 80 percent done).
Drain the rice and rinse twice, and leave in a colander to drain.
In a heavy based pan, heat the ghee and fry the raisins, almonds and cashew nuts and saute till golden brown .Remove the nuts and keep aside and add the rice in the same ghee and mix well.
Grease the edge of the lid and line a rolled string of dough along it. Grease the dough a little too.
Lower the heat, remove half the rice and sprinkle half the sugar, and then layer the rest of the rice and the rest of the sugar over it. Put the lid on to seal and place the pan over a griddle (tawa) over low heat for about 1/2 an hour.
Break the seal and garnish with raisins, nuts and varq.
Before serving sprinkle a little rose water.
2. Kesari Phirni
Recipe by Chef Subrata Debnath, Executive Chef at Vivanta by Taj-Gurgaon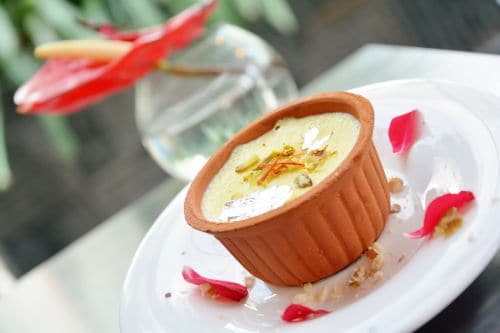 Ingredients:
Rice- 75 gms
Milk- 300 ml
Caster sugar- 30 gm
Saffron- a few strands
Powdered green cardamom- a pinch
Rose water- to sprinkle
Slivered almonds and pistachios- to garnish
Silver foil and rose petals- to garnish
Preparation:
Soak the saffron strands in a tsp of warm milk.
Soak the rice in water for about one hour.
Drain the water and grind it to a paste. Should not be too coarse.
In a heavy bottomed pan, combine the milk, sugar and the rice paste together and boil. Cook for about 15 to 20 mins until the mixture is creamy and thick and coats the back of a spoon.
Add the saffron and cardamom and mix well. Remove from heat.
Add the rose water and mix well.
Refrigerate for around 2 hrs until chilled and set.
Garnish with slivered nuts, silver foil, rose petals and serve.
3. Gurh da Halwa
Recipe by Chef Gurpreet Singh, Punjab Grill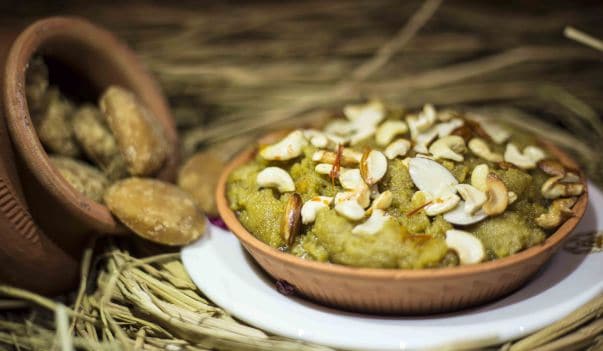 Ingredients:
Salmonella- 1 cup
Jaggery pounded- cup
Fennel seed- tsp
Clarified butter - cup
Saffron- 4-5 strings
Sliced almonds- 2 tsp
Sliced cashew nut- 2 tsp
Raisin- 2 tsp
Milk- cup
Water- 2 cups
Preparation:
Heat clarified butter in a pan add fennel seed and let it crackle.
Add salmonella and saute till it browns.
In separate pan heat water, dissolve jaggery into it.
Once the salmonella is cooked add dissolved jaggery, milk and saffron.
Add dry nuts and cook further for two minutes.
Serve hot, garnish with sliced almonds.
4. Mango Lassi
Recipe by Chef Roopa Gulati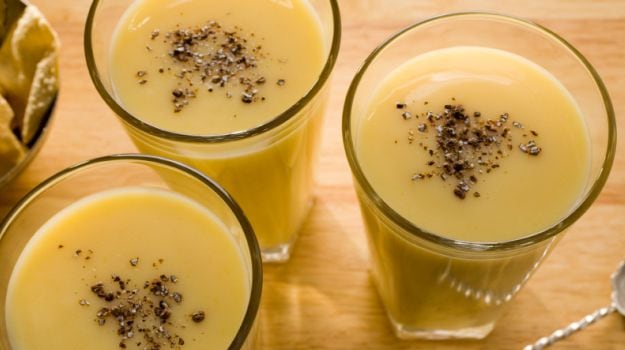 Ingredients:
Curd- 125 ml
Iced water- 200 ml
Ice cubes- 8
Mango (chopped)- 1
Sugar- 1 tbsp
Dried mint- 1 pinch
Preparation:
Whip all the ingredients together in a blender.
Serve chilled.
5. Malai ki Kheer
Recipe by Chef Girish Krishnan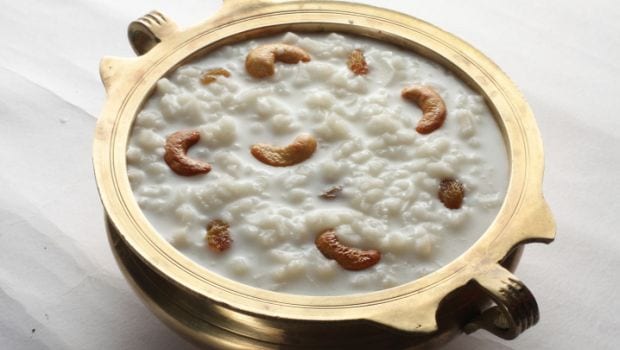 Ingredients:
3/4 cup basmati rice, tukda (150 gm)
2 liter milk
1 tin condensed milk
50 gm khoya
1/2 cup cream (100 ml)
1 tsp green cardamom powder
1 tsp saffron
50 gm almond, sliced
50 gm pistachio, sliced
Preparation:
Soak the rice in a bowl and make granular paste. Keep aside.
Boil the milk in a pan and reduce it to half. Once it is reduced, add the rice paste and cook further.
Once the rice is cooked, add the condensed milk and khoya. Cook for another 10 minutes.
Now add the cream, sugar, green cardamom powder, saffron, almond and pistachio.
Serve hot or chilled.
6. Atta da Halwa
Recipe by Chef Niru Gupta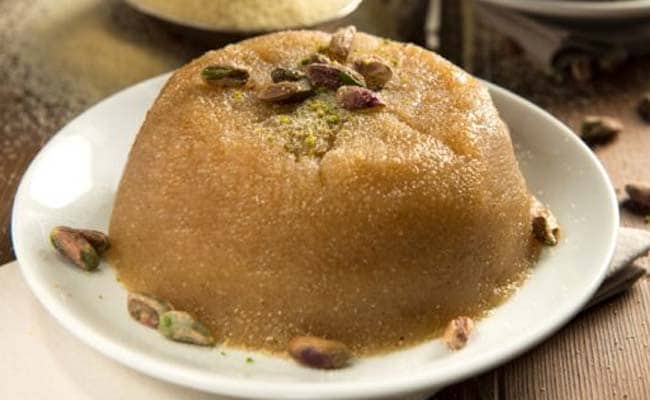 Ingredients:
1 cup (whole wheat flour)
1 cup sugar
4 cups water
1/2 cup ghee
Preparation:
In a deep, heavy based sauce pan, melt the ghee add the whole wheat flour and stir fry.
At the same time, place the water and the sugar in another pan, to dissolve the sugar and keep on simmer, till required.
Stir-fry till the base of the pan looks glossy and the flour does not stick together as much.
Add the sugar solution stirring all the time and bring to a boil, then simmer till the liquid is absorbed.
Serve hot.