If there's anything in our desi range of snacks that can give a tough competition to the on the go cult of snacks of the west is our greasy and wholesome kathi roll. Flaky thin paratha or rumali roti filled with veggies, meat chunks and an array of sauces and spices. Interestingly, it was in only in the 1930's that the kathi's were born (in Nizam restaurant in Kolkata, as per the legends) and became a part of the Indian food circuit as if they belonged here since inception. It is said that kathi rolls were born in Nizam restaurant in Kolkata and was a popular snack throughout 1930s. Food writer Kalyan Karmakar in his book, 'The Travelling Belly,' notes a popular legend behind origins of kathi roll. It is said, the rolls were designed for the British officials stationed in Calcutta, to minimise the use of hands in eating the kebabs. Kebabs wrapped inside the parathas are portable and easy-to-eat, much like a sandwich. Kathi rolls, rumali rolls and Frankie have become an integral part of the street food fare across the country. Delhi's food landscape is incomplete without it, too. Here are some of our favourite kathi roll places in town. 1. 36, Chowringhee Nestled in the lanes of south Delhi's popular youth hub - Satya Niketan, Chowringhee is popularly known, is a haven for dense and decadent rolls, momos and Chinese food. Offering about 27 different varieties of rolls, Chowringhee is sure to leave you spoilt for choices. What to try you ask? We are compelled to say all of them, but some of our all-time favourites are double mutton seekh kebab roll, chicken roll, veggie roll, soya chap roll and chicken schezwan roll. Pocket-friendly and ever-so delectable, the hype of Chowringhee's rolls have grown so big in the past 5 years that you can also find its multiple outlets across the city.
Where:93, Opposite Venkateswara College, Satyaniketan, New Delhi
Cost For Two: INR 250(Also Read:
Where to Get the Best Kathi Rolls in Kolkata
)
2. The KathisOne of the GK M block's most sought after eateries, the Kathis is house to a delectable variety of mutton, chicken and veg kathi rolls. The non-vegetarian rolls also come with a casing of a thin egg layer over the parathas. You can choose to have your rolls without them too. They also have a delicious variety of rumali rolls too. As you munch into their toothsome rolls, don't forget to try their delicious cold coffee too! Where:M-29, M Block Market, Greater Kailash (GK) 1, New Delhi and Multiple outlets
Cost For Two: INR 300(Also Read: 10 Best Wraps & Rolls Recipes)

3. Dadu Cutlet Shop, CR ParkDon't go by the tiny size of this humble take-away shop, Dadu Cutlet Shop has been dishing out some of the most authentic and delicious Bengali snacks. From Mughlai paratha to non-veg and vegetable chops, devil, kachori, and of course, our favourite kathi rolls, Dadu Cutlet Shop has got you covered. Juicy and tender meat and/or vegetable chunks thrown in with a host of sauces, Dadu Cutlet's kathi rolls are a treat to the soul. Since not everybody has the taste to palette the pungency of mustard sauce or as kasundi, they ask well in advance if you want a dash of it in your roll. You can choose to do away with it and your roll is going to taste just as amazing. But, our vote: a BIG YES! Oh, did we tell you, Dadu Cutlet Shop's kathis are also one of the cheapest and authentic kathi rolls in the town. There, there we saw you slurping. Where: 39, C.S.C Market 2, Chittaranjan Park, New Delhi
Cost For Two: INR 200(Also Read:Love Kathi Rolls And Frankie? Read On To Know The Difference Between The Two)

4. Rajinder Da DhabaOne of the most prized possessions of Safdarjung, Rajinder da Dhaba is every Delhiite's go-to-place when they crave anything north Indian or Mughlai. Rajinder Da Dhaba's rumali rolls is one of the sought after item on their menu, and one bite into their roll would convince you just why. Juicy and succulent kebabs, wrapped carefully in piping hot and fresh rumali roti, served with onion and mint chutney are just amazing. Our picks? Chicken rumali roll and mutton rumali roll. Where: AB-14, Safdarjung Enclave Market, Safdarjung, New Delhi
Cost For Two: INR 450

5. Ghalib Kebab Corner, NizammuddinLocated in the ever-bustling lanes of Hazrat Nizamuddin, Ghalib Kebab Corner houses dishes authentically Mughlai in essence. Their loaded rolls wrapped in rumali roti are no different. Served with onions and lip-smacking chutney, Ghalib's rolls stay with you far after you have left. Our favourites? Chicken tikka roll and the greasy mutton kebab roll. Where: Shop 57, Ghalib Road, Near Lal Mahal, Nizamuddin, New Delhi
Cost For Two: INR 300

6. Khan ChachaKhan Chacha's rolls have earned a celebrity fan following, which is unprecedented of sorts. The multiple outlet spread across the city are only a testimony of the same. Wrapped delicately in rumali rotis and served with minty chutney, Khan Chacha's rolls are a must try. Where: 50, Khan Market, New Delhi, Delhi 110003, and Multiple outlets across Delhi
Cost For Two: INR 400

7. Zaiqa Kathi Rolls, Mayur ViharTrust us when we say this, you would find people in Mayur Vihar waiting for the clock to strike 5 p.m. so that they can head out to this humble kiosk, which possibly serves some of the best rolls in east Delhi. Zaiqa opens in the evening and is forever bustling with customers loyal and new, devouring their delicious rolls. Generous with both the fillings and the sauces, Zaiqa's kathi rolls are sure to fill you up instantly. So make sure you have enough room in your stomach to head out to experience this culinary gem. Non-veg lovers must try their chicken tikka roll, chicken seekh kebab roll and mutton kebab roll. Vegetarians can relish soya kathi roll and the delicious veggie roll.Where: G-8, Plot No-5, Samachar Market, Mayur Vihar Phase 1
Cost For Two: INR 200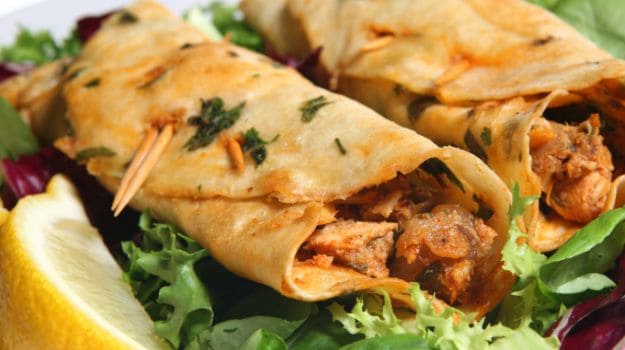 Now, if you are done slurping looking at the list, it is time to head out and try the real deal. If we missed out your favourite kathi roll places in town, do let us know in the comments section.

About Sushmita SenguptaSharing a strong penchant for food, Sushmita loves all things good, cheesy and greasy. Her other favourite pastime activities other than discussing food includes, reading, watching movies and binge-watching TV shows.