A New Pineapple Rum, With a Nod to Dickens
Robert Simpson, The New York Times | Updated: July 19, 2017 12:51 IST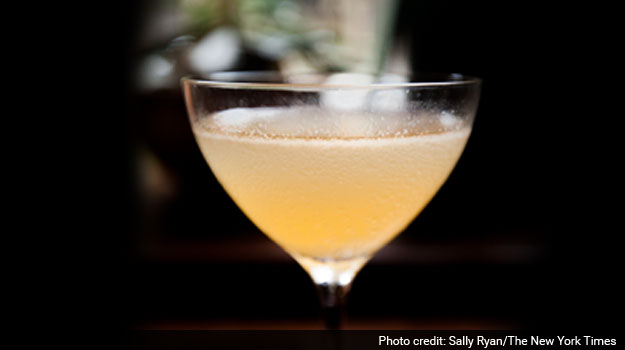 Many of Charles Dickens' characters like to drink as much as their creator did. They fill pages by availing themselves of a glass of this or a bowl of punch. For this reason, Dickens' novels have proved useful as windows into 19th-century drinking habits. And now, one character has lent his name to a new spirit.

Plantation Pineapple Rum Stiggins' Fancy - recently released by Maison Ferrand, the French producer of cognacs, gins, rums and other spirits - is named after Rev. Stiggins, an ecclesiastical hypocrite from "The Pickwick Papers" who preached temperance between nips of his beloved pineapple rum.

"That's his most convivial book," said David Wondrich, cocktail historian, who collaborated with Ferrand on the new product. "It's full of people tippling and gin punches."
Pineapple rum sounds like something that might have been released last week, to fill a market gap between last year's mango rum and next year's star fruit rum. But it dates back to the late 1700s or earlier.

"It was a thing distillers used to do," Wondrich said. "It was done in the islands. They'd soak pineapple in the barrel; it gave the rum a sweetness and richness. It was not wildly popular, but you'd see it."

The idea to bring it back came when Alexandre Gabriel, Ferrand's president and owner, asked Wondrich, with whom he had collaborated on a cognac and a Curaçao, if he had "any other bright ideas," as Wondrich put it.

Gabriel drew on old recipes and his own expertise. He steeped the flesh of pineapples in his Plantation Original Dark Rum, an aged rum. Then, seeking more aromatics, he distilled the pineapple rind with his Plantation 3 Stars White Rum. The two rums were blended and left in a barrel to spend some time together. Gabriel intended the new liquor as a one-off, something to show off as a novelty. But when he poured some out at the 2014 Tales of the Cocktail, the annual liquor convention in New Orleans, bartender reaction was strong. After numerous demands for more, he eventually decided to release it commercially, with a suggested retail price of $30.

The rum's appeal to bartenders (apart from a rich history, which is catnip to mixologists) is its subtlety. It is a rum with pineapple notes, rather than a pineapple-y rum. Freddie Sarkis, bar manager of the newly opened Broken Shaker in Chicago, has been using it in a daiquiri variation. The pineapple tends to sneak up on his customers. "They notice it when you mention it, which is what I like about it," he said. "It's not super on-the-nose."

The rum seems to lend itself well to classic cocktails. Jackson Cannon, a partner at the Hawthorne in Boston, has been using it for old-fashioneds. He thinks the spirit has the rare potential to grab both bartenders and everyday drinkers - the bartenders because "it's a very well-made, useful thing," and the everyday drinkers because, unlike some of the obscure innovations that have hit shelves in recent years, "it sounds unintimidating."

As Wondrich said: "It's not too weird. That's the strength of it."

Pineapple Express:

1 1/2 ounces Plantation Pineapple Rum Stiggins' Fancy
3/4 ounce 100-proof rhum agricole, preferably Neisson
3/4 ounce fresh lime juice
1/2 ounce simple syrup (see note)
Grapefruit twist

1. Combine the pineapple rum, rhum agricole, lime juice and simple syrup in a cocktail shaker three-quarters filled with ice. Shake vigorously for about 30 seconds. Strain into chilled coupe glass. Squeeze grapefruit twist over drink and discard.

To make simple syrup, warm 1 cup sugar in 1 cup water in a saucepan over low heat until dissolved. Cool to room temperature before using. (There will be extra syrup; refrigerate if not using immediately.)

© 2015 New York Times News Service