Eggs are one of the classic breakfast options that we find ourselves making every other day. They are healthy, nutritious, versatile and have an amazing flavour to them. But, if you ask us, a scrambled egg and buttered toast have to be the winner of the most wholesome and comforting breakfast category. A bite of that fluffy, creamy, moist scrambled egg in the morning just sets the tone right for the entire day, given, you make it right! 'I know how to make scrambled eggs ', you may think, but, do you know how to make the fluffiest egg that there is? Well, you are about to now!


(Also read : Easy High Protein Recipe: How To Make Masala Scrambled Eggs In A Microwave)


Once you've had fluffy scrambled eggs, there is no going back to any other kind of scrambled eggs. Its texture is light yet rich; you can have heaps of it and still not be done for the day. And the best part is that you don't need a lot of ingredients to get a perfect balance, with just 4 ingredients you can make yourself an easy yet luxurious breakfast. Some of the tips to remember while trying to make fluffy scrambled eggs is to not use iron utensils as they give a greenish tone to the eggs, beat vigorously to make the eggs full of air, and don't shy away from using as much butter as you want to. And the most important part is to stop cooking them a minute before you think it is done. Lather a hot toast with butter and enjoy your beautiful homemade breakfast.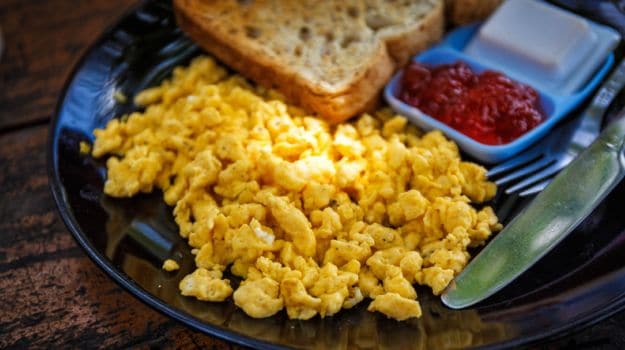 Egg bhurji is the indian version of the scrabled eggs
How To Make Fluffy Scrambled eggs l Fluffy Scrambled Eggs Recipe:
In a bowl, take eggs and add a pinch of salt. Start beating lightly and while adding milk. Beat vigorously for the last minute. Heat a non-stick pan with a spoonful of butter, add the egg mixture and cook by folding and bringing in the batter continuously. Do not stir too much. Take it off the heat just a minute before you think it's done, and enjoy the fluff.


Click here for a step-by-step recipe of fluffy scrambled eggs.


(Also read : Egg Hack: This New Way Of Making Scrambled Eggs May Change Your Life (Watch Video))


Well, what are you waiting for? Go make yourself some of the fluffiest scrambled eggs that there is! Let us know how you liked it, in the comments below.