The Northern part of India is gearing to celebrate the Chhath Puja or Chhath Parva 2017. The 3-day Ancient Hindu festival dedicated to the Sun God will begin on 25th October and would continue till 27th October. The festival is celebrated widely in regions of Bihar and Uttar Pradesh where devotees throng the banks of Ganga to pay their respects to the Sun God for looking after them and seek his blessings for a happy and prosperous life. The second day of the festival, also known as Kharna, involves devotees to observe a fast for the whole day, which they break late in the evening after worshipping mother earth. There are several chhath special delicacies that are made and served as part of the festivities like Rasiao-kheer (rice delicacy), puris, malpua etc. One of the most significant Chhath Puja recipes prepared specially during the celebrations is Thekua. The traditional food of Bihar has many gems, and Thekua has to be one of the most loved Bihari recipes. Thekua is a biscuit like dish which is made using wheat flour, sugar, ghee and lots of chunky dry fruits, and deep fried in pure ghee.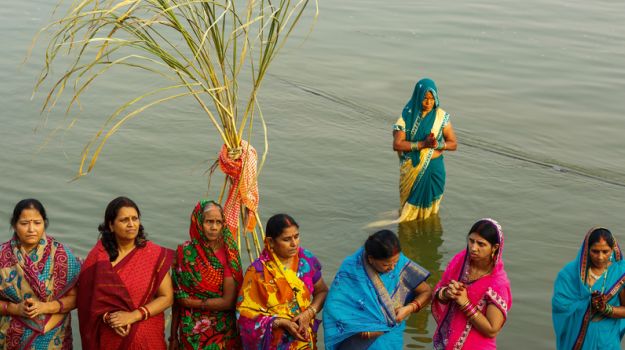 Here are 5 things you should know of the special Chhath Puja Dish - Thekua.
1. Thekua is also known as Khajuria or Thikari. The sweet snack is popular across the regions of Bihar, Madhya Pradesh, Jharkhand and eastern Uttar Pradesh, since ancient times.
2. A slightly harder version of Thekua is a Khajuria, which is preferred more by certain communities in Bihar and Nepal for its longer shelf life, but some families like it softer (Thekua). Thekuas or Khajurias are made of refined vegetable oils and makes use of a special type of roasted wheat flour.
3. Like every Chhath puja Prasad, Thekua is also traditionally made on a mud stove, using mango wood as fuel. Those who don't have mud stove opt to use bronze cookware.4. Thekua is made of whole wheat flour, raisins, dry coconut jaggery)/ sugar (chini), and ghee or refined oil. First of all, a solution of sugar/jaggery is made with water. This is then added carefully to the wheat flour to form a dough. After this a small chunk of the dough is rolled and pressed against the wooden mould (saancha) which has been greased beforehand with ghee. This helps to avoid the dough sticking on to the saancha. This flattened piece of dough is then deep fried in the oil or ghee till golden brown.
5. The traditional Chhath Puja recipe of Thekua is made either in the evening of Kharna (second day of Chhath) or in the next morning or Sandhya Ghat (Evening Arghya or Offering). Here is a quick recipe of thekua you can try making at home for Chhath 2017
Happy Chhath Puja 2017!
About Sushmita SenguptaSharing a strong penchant for food, Sushmita loves all things good, cheesy and greasy. Her other favourite pastime activities other than discussing food includes, reading, watching movies and binge-watching TV shows.