The ham may have been a tad too big, and there were twice as many prawns as anyone could possibly eat, but fear not, there are many ways to deal with the festive surplus.
Christmas Day has come and gone. Time to politely ask for receipts for those unwanted presents and work out what to do with the masses of food crammed into the fridge. It's easy of course to not want to do anything with all that food, other than tip it all into the bin. In fact, of the $10bn we spend on food over Christmas - 35% of it will end up as landfill.
If you're anything like me and find that a shocking waste of good food then it's time to get creative with what you've got leftover.
Turkey
Despite Christmas falling during summer for those of us in the southern hemisphere, for many Christmas isn't Christmas without a roast on the table. Turkey seems to be the popular option. As my cousin remarked on Christmas Day: "Well that's my once a year turkey hit." Because really, when else in the year would you have a roast turkey?
The first step is to shred the leftover turkey meat, then the sky is the limit for where you go from there. The easiest option would be to make sandwiches and the combinations are endless. How about roast turkey, cranberry and cheese on rye bread? Or a simple turkey, salad and mayo stuffed into pita bread?
If the thought of sandwiches seems rather dull, then you could take up Jamie Oliver's suggestion of using your leftover turkey to make banh mi. Or how about going with Martha Stewart who suggests using leftover turkey to make chilli.
You could simply combine shredded turkey with bolognese sauce (the jar variety is fine) to make turkey bolognese. This can be used in pasta bakes or simply stirred through some spaghetti. Shredded turkey is great when mixed into salads. It is also good baked into pies and layered between sheets of lasagne. Turkey is essentially a very versatile meat so you could really get creative with how you use it.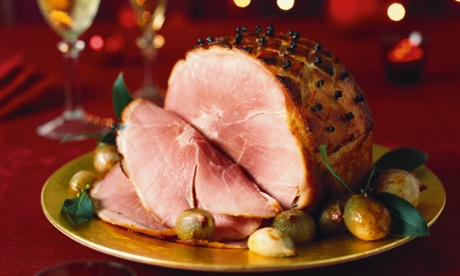 Ham
Ham is an important part of many Christmas meals - so much so that Woolworths alone sold more than four million kilograms of ham in the month leading up to Christmas. And while for many of us ham sandwiches are a part of everyday life, dealing with leftover ham requires a bit of thought. It's important to place the ham in a ham bag or an old pillowcase rinsed in vinegar and wrung out tightly, then store it in the fridge. The ham bag or pillowcase will need to be changed or washed and dried every three days. Slice the ham as needed and place back in the bag. If you have lots of leftover ham it can also be frozen. And make sure you retain the bone to make stock.
As for recipes, ham can be used in a multitude of dishes - be it shredded over a pizza base with some pineapple to make a family favourite, or diced into some pasta sauce and made into a variety of pastas or pasta bakes. It is also great in salads. If you fancy doing something different, ham and corn fritters make an easy, tasty lunch, while ham and bacon quiche satisfy most meat lovers.
Leftover salad/roast veg
The thought of leftover salad may seem quite unappetising. Even the most frugal cooks would be tempted to head for the bin. But before you do, consider the following options - left over salad can be mixed with some pasta to make pasta salad. It can be beaten with some eggs to make omelette or even used as a filling for chicken breast roulade. You can also use it to make a quick gazpacho.
The options for using roast veg are endless. The easiest option would be to blend the roast veg together with some stock to make roast vegetable soup. You can mash up the roast veg together with some egg and breadcrumbs, before frying to make vegetable patties or use them to make an easy frittata. You can also stuff chopped roast vegetables into pastry to make gluten-free pasties or cheese and potato filo parcels. Roast veg salad is another good option and can be as simple as tossing the veg with some crisp greens and crumbling a bit of feta on top.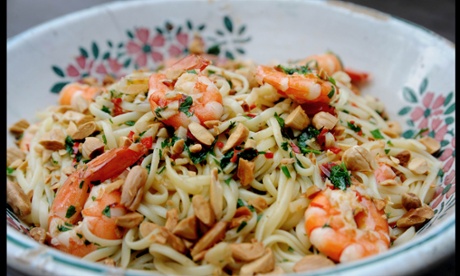 Seafood
Aussie families are now more often than not turning to seafood to form the main part of their Christmas meal. Roasted barramundi, whole cooked prawns, and smoked salmon are all favourites. Before using seafood as leftovers it's important to note food safety - this means placing uneaten seafood into the fridge as soon as possible, and ensuring prawns especially remained chilled.
As prawns are the first of your leftovers that need to be eaten, prawn laksa hits the spot. Prawns are also great in salads, pastas and tossed with some vegetables and noodles in a stirfry. They also make a great addition to fried rice.
Leftover fish should be flaked and can be used to make homemade fish fingers, a fish quiche or mashed with some potatoes to make fish cakes.
Smoked salmon can be repurposed into pate or added to soups such as this creamy leek and potato soup.
If you have different varieties of seafood leftover you can try this Nigella Lawson leftover seafood quiche or an easy seafood risotto which basically involves stirring seafood, rice and stock together in a pan over some heat.
It needn't be hard to repurpose leftovers into a variety of dishes - for some the leftover meals may even turn out to be tastier than the original dish.
Too much to eat in one sitting? Try turkey banh mi, or turkey chilli, or turkey bolognese, or turkey pies, or turkey ... (you get the idea ...) Photograph: PR
This article was originally published on The Guardian