Crunchy, cooling and ever-so delightful, cucumber is an essential part of our summer diet. From sandwiches to salads and dips, the versatile veggie can be show-stealer wherever you put it in. Belonging to the gourd family, cucumber is scientifically known as Cucumis sativus. The water-rich veggie originally hails from south Asia, but is now cultivated across many continents. Since it is the ultimate cooling food, it is used in many summer recipes. Cucumbers are best consumed raw. Cucumber is a powerhouse of minerals, vitamins and electrolytes. Health Practitioner, Nutritionist and certified Macrobiotic Health Coach, Shilpa Arora says, "Cucumber is packed with nutrients like vitamin K, vitamin C, magnesium, phosphorus, riboflavin, B-6, folate, pantothenic acid, iron, silica, calcium and zinc." So, here are a few cucumber nutrition facts that you may not have known.(Also Read -
5 Untold Benefits Of Cucumber Water)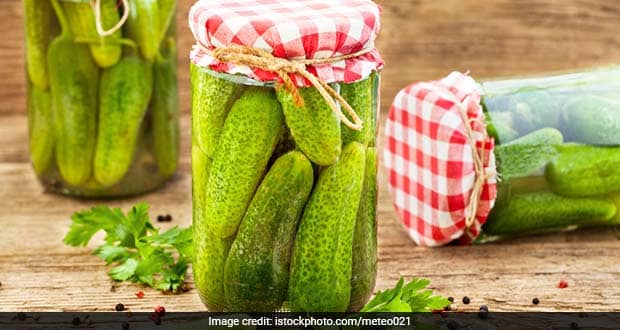 Cooling and ever-so delightful cucumber is full of nutrients

Cucumber Nutrition And Health Benefits
Weight Loss: Dr. Anju Sood, a Bangalore-based Nutritionist says, "Cucumber is a powerhouse of antioxidants and hence, boosts metabolism and results in weight loss." It is low on calories, which makes it a great option for those watching their weight.
Hydrates Your Body: Shilpa Arora says, "Cucumber is made of up to 95% water and two compounds - ascorbic acid and caffeic acid - which prevent water retention. Due to its high-water content, it boosts your body's hydration and flushes out toxins."
Good For Heart: Cucumbers do wonders for your heart health. Cucumbers contain lariciresinol, secoisolariciresinol, and pinoresinothree lignans (plant hormones) that help reduce the risk of cardiovascular disease, notes the book, 'Healing Foods' by DK Publishing. These plant lignans have also shown to reduce risk of several cancers including breast, uterian, ovarian and prostrate.
Detox Properties: Due to its high-water content, cucumber juice cleanses the body by removing toxic and old waste materials. It makes for a powerful detox drink.
Good For Gut: According to the book 'Healing foods,' cucumbers contain erepsin, a digestive enzyme that helps break down protein. The book further notes, that cucumber also has antiparasitic properties, which help cleanse and tone the intestines.
Regulate Cholesterol: Consuming cucumbers also manage your cholesterol levels. Cucumbers contain beneficial plant sterols that has shown to lower "bad" cholesterol level.
Diuretic Action: Cucumber's mild diuretic action helps soothe constipation. And, that's not all. Cucumber's amazing ability to balance water in the body makes it a boon for heart and kidney problems.
Boosts Urinary Function: If you are wondering that eating, too, much cucumber may lead to water retention, then you may not have much reason to worry. Cucumbers have caffeic acid that helps prevent water retention. The book 'Healing Foods' notes, "other nutrients it contains help dissolve uric acid accumulations and can aid the treatment of kidney and bladder stones."
Regulates Blood Pressure: Cucumber contains potassium and magnesium, which can help prevent high pressure. Potassium helps lower blood pressure by balancing out the negative effects of salt.
Skin Benefits: Cucumbers are an excellent source of silica - the beauty mineral. Drinking cucumber juice gives you healthy and rejuvenated skin from within. Putting cucumber slices on eyes could help reduce dark circles. The ever-cooling cucumber could help soothe the tanned or sun burnt skin too.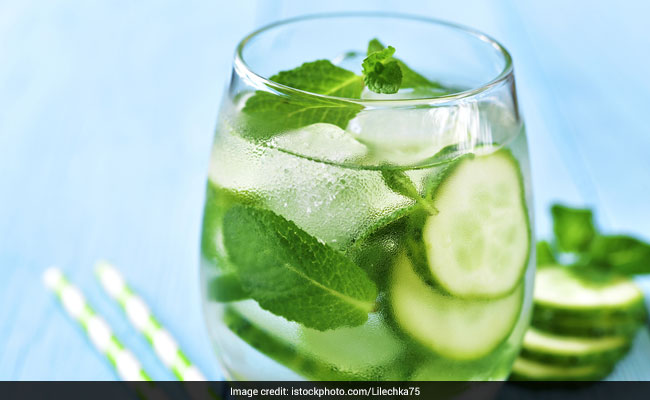 The water-rich veggie cucumber is rich in potassium
Cucumber Nutrition Facts: Key Vitamins, Nutrients and Minerals of The Vegetable
Calories in Cucumber: A 100 gram of raw cucumber has only 15 calories.
Potassium in Cucumber: A 100 gram of raw cucumber has a whopping 147 mg of potassium. Potassium helps lower blood pressure and electrolyte balance of the body.
Calcium in cucumber: A 100 gram of raw cucumber has 16 mg of calcium. Calcium is key for the health of your bones and teeth.
Vitamin C in cucumber: A 100 gram of raw cucumber has 2.8 mg vitamin C. Vitamin C is essential for immunity, skin health and heart health too.
Phosphorous in cucumber: A 100 gram of raw cucumber has 24 mg phosphorous. Phosphorus works with calcium for the maintenance of bones and teeth.
Note: Figures are as per the United States Department of Agriculture.
Here is a complete cucumber nutrition chart that will convince you to load up on the wonder veggie today. The figures are according the United States Department of Agriculture. A 100 gm of raw cucumber contains:
Water

g

95.23

Energy

kcal

15

Protein

g

0.65

Total lipid (fat)

g

0.11

Carbohydrate, by difference

g

3.63

Fiber, total dietary

g

0.5

Sugars, total

g

1.67

Minerals

Calcium, Ca

mg

16

Iron, Fe

mg

0.28

Magnesium, Mg

mg

13

Phosphorus, P

mg

24

Potassium, K

mg

147

Sodium, Na

mg

2

Zinc, Zn

mg

0.2

Vitamins

Vitamin C, total ascorbic acid

mg

2.8

Thiamin

mg

0.027

Riboflavin

mg

0.033

Niacin

mg

0.098

Vitamin B-6

mg

0.04

Folate, DFE

µg

7

Vitamin B-12

µg

0

Vitamin A, RAE

µg

5

Vitamin A, IU

IU

105

Vitamin E (alpha-tocopherol)

mg

0.03

Vitamin D (D2 + D3)

µg

0

Vitamin D

IU

0

Vitamin K (phylloquinone)

µg

16.4

Lipids

Fatty acids, total saturated

g

0.037

Fatty acids, total monounsaturated

g

0.005

Fatty acids, total polyunsaturated

g

0.032

Fatty acids, total trans

g

0

Cholesterol

mg

0

Other

Caffeine

mg

0
In conclusion:
While the best way to have cucumbers is to have it raw. Nutritionists also state that ideally one should have it with peel to make most of its nutritive quotient. But, if you are willing to experiment, don't stop yourself. Blend them in smoothies, cooling dips, soups, sandwiches or salads, but make sure you do not miss out on the many health benefits this gourd vegetable has to offer.
About Sushmita SenguptaSharing a strong penchant for food, Sushmita loves all things good, cheesy and greasy. Her other favourite pastime activities other than discussing food includes, reading, watching movies and binge-watching TV shows.