Delhi Government Opens Stalls for Cheap Vegetables
IANS , New Delhi | Updated: August 13, 2013 13:01 IST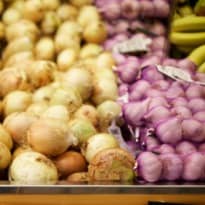 The Delhi government on Thursday set up outlets for selling onions and potatoes at nominal prices.

While onions will be available between Rs.32 and Rs.35 per kg, one kg potatoes will cost Rs.12.

Prices of onions soared to around Rs.45-50 per kg in the retail market recently.

Stalls have been set up at four wholesale vegetable markets and the Delhi Secretariat, and can also be purchased at 350 centers, including 280 Mother Dairy outlets.

The decision was taken by Food and Civil Supplies Minister Haroon Yusuf during a meeting with department officials.

"The supply of onions and potatoes get affected during monsoon. Due to heavy rain, the short supply from Himachal Pradesh and Uttarakhand leads to price rise," Yusuf said after the meeting.

"We are taking the price rise issue seriously, and if the need arises we will open more outlets," he added.
The minister said the supply of vegetables from other states will increase four times after a week.