Milk chocolate and honey nougat bars from Homemade Memories by Kate Doran. Photograph: Helen CathcartMore people are making their own confectionery – and now a new book shows you how to recreate a host of megabrand goodies. Is homemade always better, or can nothing beat a Milky Way?You've got a craving for your favourite big-name biscuit. Do you a) grab your wallet and head to the corner shop, or b) fire up the oven and make your own? If it is the latter, then welcome to the growing DIY treats movement. Homemade versions of famous biccies, cakes and chocolates have become more popular than ever in the past year. The internet is awash with homespun jaffa cakes and make-your-own Kit Kats. On a time and cost comparison, homemade versions of famous treats can't compete with the megabrands, so why do people bother making them?
Food blogger Kate Doran is leading the latest wave of sweetie DIY. Her new cookbook, Homemade Memories, is a beautiful nostalgia fest of caterpillar cake, bourbon biscuits and marshmallow teacakes. "My mum tried to get us to make our own versions of everything because she was quite anti additives and preservatives in shop-bought treats," says Doran. She points out that home cooks have been sharing their recreations of branded treats since the early days of the internet. Hands up who remembers the glorious Pimp That Snack? The website that encouraged users to make giant versions of everything from Jammy Dodgers to Jelly Babies went viral in the 00s; its archive is still online.
Chefs love a bit of DIY action, too. Think Heston and his attempt to make the perfect version of a Viennetta. Dan Doherty of London restaurant Duck & Waffle has been tinkering with his version of Maltesers to top a new dessert. "We pipe them into little domes like macaroons, then stick them together with chocolate and Microplane the edges," he explains.
The sense of challenge is one key to the DIY treat's success. Doran says she tested some of the recipes in Homemade Memories dozens of times to ensure they were right. Rebecca Brett from Delicious Magazine's website says: "Recipes that recreate famous snacks, such as our Twix tart and after-dinner mints, constantly prove popular. The challenge, as well as showing off the finished product, is certainly part of the appeal." Likewise, Zoe Williams's efforts at recreating a Creme Egg was a hit this Easter.
Trends agency Thefoodpeople noticed an upsurge of DIY treats appearing online from mid-2014, especially on Pinterest. Co-founder Charles Banks believes nostalgia has a big part to play. "Making homemade famous brands conjures up family, childhood, happy times and birthday parties," he says. The other factor is the ever-growing interest in what is really in our food. Brett says: "There is an upward trend of people wanting to eat homemade rather than shop-bought – no additives, preservatives, E numbers or ingredients they've never heard of."
So where do you start? First, adjust your expectations and don't try to go for an exact match of texture, shape and taste. Instead, celebrate the imperfections and flavours of home baking. "I'm trying to recreate the idea, rather than make an absolutely identical version," says Doran. She reckons homemade digestives are one of the easiest recipes to start with (Felicity Cloake perfected the chocolate digestive recently, eschewing the palm oil in commercial versions). Second, have fun and make it a social thing. Doran roped in her friends to help test recipes such as the caterpillar cake, although this did mean more work when they insisted the soft ganache on the outside needed to be hard chocolate, "like a Mini Roll".
Third, exercise a little caution if you're going to blog about your creations – brand names are trademarked. Doran and her publishers named the recipes on a case-by-case basis: "I wasn't allowed to use 'Hobnobs', but I was allowed to use 'digestives' because it's a more generic term." How the brands see the DIY treats trend will vary, says Banks. "My view would be that if an individual is producing their version of a classic, then that can only be positive, and some brands actively encourage a 'social conversation' with consumers on this basis." Just don't start selling your homespun chocolate bars outside the supermarket doors.
Milk chocolate and honey nougat bars (pictured top)
As a child, my brother was fascinated by science and astronomy. For his seventh birthday, my mum painted the ceiling of his bedroom with an exact replica of our galaxy in glow-in-the-dark paint. The effect was spectacular: when you turned out the lights at night, those stars could transport you to another place. Based on another sort of Milky Way, these fluffy nougat bars are equally out of this world. You'll need a stand mixer and sugar thermometer to achieve the best results, but beyond that this recipe is pretty straightforward.
(Makes about 14 bars)
For the nougat:
Sunflower oil, for greasing
2 egg whites
350g caster sugar
1 tbsp golden syrup
100g honey
1 tsp vanilla extract
For the chocolate coating:
400g milk chocolate, chopped
Lightly grease a deep-sided 20cm square cake tin with oil. Line the bottom with cling film and lightly grease that too.
In the bowl of a stand mixer, fitted with the whisk attachment, combine the egg whites and 25g of the caster sugar. Whisk until frothy.
In a large, heavy-bottomed saucepan, combine the remaining sugar, golden syrup and 75ml water. Cook over a low heat until the sugar dissolves, then bring to the boil and heat until the mixture reaches 143C on a sugar thermometer.
In a separate, small saucepan, heat the honey until it just boils, then add it to the sugar syrup. Bring the whole mixture back up to 143C. While this is happening, whisk the egg whites until stiff peaks just begin to form.
Remove the hot syrup from the heat and, with the whisk running on slow speed, carefully pour into the egg whites in a continuous stream. Be careful not to pour the syrup onto the whisk attachment or it will stick. Keep the mixer on a medium-slow speed until the syrup is fully incorporated then add the vanilla extract and increase the speed to mediumhigh. Continue to whisk for 3-4 minutes until stiff, thick and glossy.
Use a lightly oiled spatula to scoop the nougat into your prepared tin. Don't worry if some sticks to the sides of the bowl: making nougat is a sticky business but it will come off with a good soak in hot water later. Spread the nougat level then leave at room temperature for about four hours until cool and firm.
To make the bottom layer, melt 150g of the chocolate in a heat-proof bowl suspended over a pan of simmering water (make sure that the bowl doesn't touch the water) or in the microwave, melting in short bursts and stirring well between each one to prevent catching or burning. Remove from the heat and allow to cool for five minutes, then pour over the nougat in an even layer. Chill until firm.
Once the chocolate has set, carefully tip your nougat out of the tin and peel off the cling film. Using a sharp, lightly oiled knife, slice in half then carefully cut each half into bars, wiping down the knife after each slice. Place chocolate-coated side down on a tray lined with baking parchment and freeze for an hour.
To finish, melt the remaining 250g chocolate, stirring until smooth. Allow to cool for five minutes then remove the nougat bars from the freezer. Spoon the melted chocolate over the top and sides of each bar, ensuring they are coated completely. Chill until firm then trim off any excess chocolate. The bars will keep in an airtight container for at least one week.
Real bourbon biscuits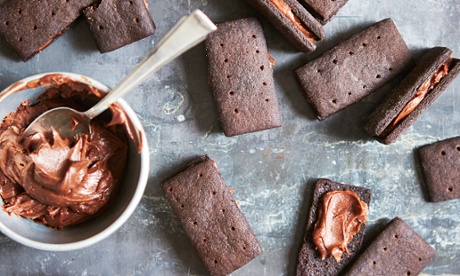 Bourbon biscuits may bear absolutely no relation to the alcohol of the same name, but they are infinitely improved by it. I first made this recipe as a gimmick for my husband to take away with him on a boozy boys weekend, but the flavours worked so well that a couple of tweaks later it became my go-to chocolate sandwich biscuit. The bourbon gives a subtle lift to these deeply chocolaty biscuits, but if you're teetotal or serving them to children, replace the alcohol with the same quantity of orange juice or milk.
(Makes 20-24 biscuits)
For the biscuits:
100g butter, softened
75g light muscovado sugar
25g caster sugar
2 tbsp golden syrup
220g plain white flour
50g cocoa powder
1 tsp bicarbonate of soda
Pinch of salt
3 tbsp milk
For the buttercream filling:
100g butter, softened
175g icing sugar
2 tbsp cocoa powder
3-4 tsp bourbon (to taste)
½ tsp vanilla extract
Preheat the oven to 170C/335F/gas mark 3. Line two baking trays with baking parchment. Cream together the butter and sugars for 2-3 minutes, until pale and fluffy. Beat in the golden syrup, then sift in the flour, cocoa, bicarbonate of soda and salt, and beat together. Add the milk, a little at a time, to make a smooth dough. Place the dough between two large pieces of clingfilm and roll out to a large rectangle, 3-4mm thick.
Cut into 6x3cm rectangles, then transfer to the baking trays and use a wooden skewer to mark out rows of dots along the length of each biscuit. Bake for 10 minutes, then remove from the oven. Leave to cool on the tray for five minutes, then transfer to a wire rack to cool completely.
Cream the butter for two minutes until fluffy. Sift in the icing sugar and cocoa and beat slowly until combined. Add the bourbon and vanilla extract and beat until smooth.
Spoon or pipe a thick line of buttercream down the middle of one biscuit. Sandwich together with a second biscuit. Repeat until all the biscuits are filled. The biscuits will keep in an airtight container for 3-4 days.
Orange blosson turkish delight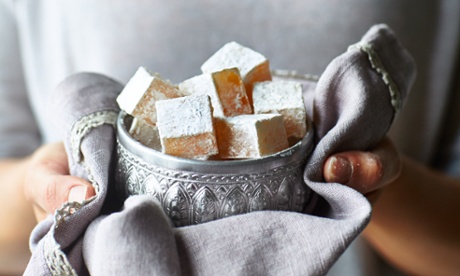 Despite having nightmares about the White Witch in the BBC adaptation of The Lion, the Witch and the Wardrobe as a child, I always thought the box she offered Edmund, with its sugar-coated contents and silver ribbon, looked enormously appealing. This recipe recreates that infamous treat with a little twist, replacing rosewater with orange blossom water, honey and delicate strands of saffron.
(Makes 30-40 pieces)
Sunflower oil, for greasing
9 sheets platinum-grade fine leaf gelatine
525g caster sugar
juice of 1 large lemon
Generous pinch of saffron
Finely grated zest of 1 large orange
90g cornflour
1 tbsp honey
1 tbsp orange blossom water
30g icing sugar
Lightly grease an 18cm square cake tin with oil. Line with clingfilm then lightly grease that too.
Place the gelatine sheets in a bowl of cold water and leave to soak for five minutes, until soft. In a medium, heavy-bottomed saucepan, combine the caster sugar, 300ml water, lemon juice, saffron and orange zest over a low heat until the sugar has dissolved. Bring to the boil, cook for two minutes, then remove the syrup from the heat.
In a separate small bowl, stir together 75ml water and 75g of the cornflour until smooth. Squeeze as much water as possible out of the gelatine sheets then add it along with the cornflour mixture to the syrup, whisking until smooth.
Bring the mixture to a simmer then cook over a medium-low heat for 15–20 minutes, stirring continuously with a heat-proof spatula to prevent it catching on the bottom of the pan. The mixture will become really thick and gloopy: it's ready when it starts to pull away from the sides of the pan. Remove from the heat and stir in the honey and orange blossom water. Scrape into the prepared tin, smooth the surface then leave to set completely at room temperature for six hours or overnight. Once set, sift the remaining 15g cornflour and all the icing sugar over a clean, dry work surface.
Turn out the set delight, cut into cubes using a knife lightly greased with vegetable oil, then roll each cube in the sugar and cornflour mixture. Leave to dry out at room temperature for 24 hours for the very best texture. These will keep in an airtight container for up to two weeks.
Blackberry and apple pastilles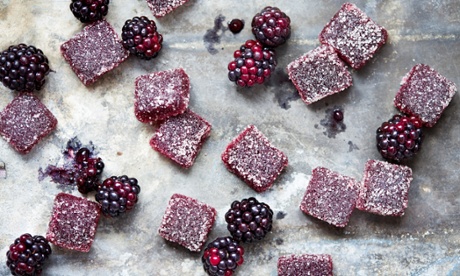 The wonderful thing about making fruit pastilles at home is that you can experiment with flavours that don't exist in the shops. The combination of blackberry and apple is one of my favourites, creating a taste of the British countryside in one sweet, sharp mouthful. Based on the French pâte de fruit or fruit paste, these homemade pastilles are slightly squashier than their manufactured counterparts. To achieve a little more chew, leave to dry for 24 hours at room temperature before packing and storing or eating.
(Makes about 40 pastilles)
Sunflower oil, for greasing
500g fresh blackberries
150ml cloudy apple juice
1 medium eating apple, skin-on, grated
Juice of 1 lemon
20g liquid pectin (I use the Certo brand)
2 tbsp liquid glucose
300g caster sugar
100g granulated sugar, for coating
Lightly grease an 18cm square cake tin with oil. Line with cling film then lightly grease that too. In a large, heavy-bottomed saucepan, combine the blackberries, apple juice, grated apple and half the lemon juice. Cook over a medium heat for 10-15 minutes, stirring occasionally, until the fruit is really soft and the juices run. Push the liquid through a fine mesh sieve, pressing down with the back of a spoon or spatula to extract as much juice as possible. Weigh out 350g.
In a small bowl, whisk together the remaining lemon juice and pectin.
Return the blackberry purée to the saucepan, add the glucose and caster sugar and bring to the boil, stirring continuously to prevent catching on the bottom of the pan. Once bubbling, stir in the pectin mixture and bring the mixture to 113-115C on a sugar thermometer, stirring frequently to prevent sticking. It should look glossy and feel thick against your spatula.
Scrape into the prepared tin, tap firmly on the work surface to level then allow to cool completely at room temperature for six hours or overnight. Once set, pour the granulated sugar onto a chopping board. Turn the giant fruit pastille out on top and, using a lightly greased knife, cut into cubes.
Toss each cube in the sugar then leave to dry at room temperature for at least an hour. The pastilles will keep in an airtight container at room temperature for at least a week.
• Homemade Memories by Kate Doran (Orion, £18.99). To order a copy for £15.19, go to bookshop.theguardian.com or call the Guardian Bookshop on 0330 333 6846. Free UK p&p over £10, online orders only. Phone orders min p&p of £1.99.