"That's too much chocolate," said no child ever. So much so that eating too much chocolate is a bone of contention between parents and children that often causes meltdowns at home. Chocolate has been made a villain in the battle against the bulge for a very long time now. I am no dietitian, but I do know that if this was the case, the Mayans and the Aztecs would have been really obese.
As a patisserie chef, my experience tells me it is not chocolate or cocoa that is fattening, but how it is prepared and more importantly, how much of it you eat. It is usually the sugars that make you put on weight, and not the cocoa. The health benefits of chocolate are found in cocoa, which is bitter, and most children refuse to eat it. To make it more palatable, fat and sugar are added which increases the calories and decreases the health benefits.
Childhood obesity is a serious concern in the recent years. Dark chocolate can be part of a healthy diet for your child if you allow them to consume it in small portions. Pick dark chocolate with at least 65 percent cocoa for a healthier choice but the key point to remember is to consume it in moderation. In any case, the excess of anything is bad.
Given a chance, chocolate can be incorporated into some really nutritious dishes that can be made for kids who seem to have an aversion to food the moment their mothers say 'healthy'.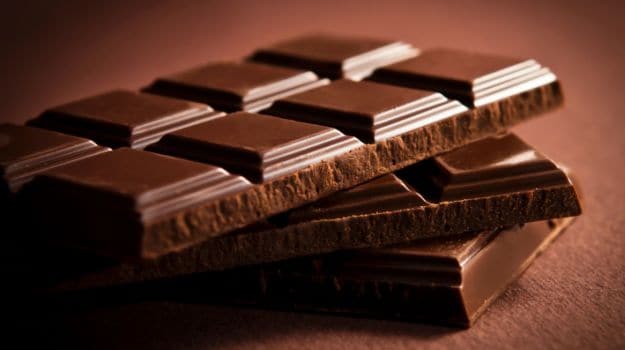 Trust the Mayans
The ancient Mayans and Aztecs used cocoa for many medicinal purposes, including constipation and diarrhea. Recent studies involving children have shown that chocolate may be beneficial in preventing these two conditions. I read in a study that the flavonoids in cocoa limit the release of fluids that cause diarrhea. Adding a little cocoa to a child's milk or sprinkling a little bit on a banana may encourage your child to eat healthy foods he or she may not want to eat otherwise.
Chocolate can be part of a healthy and balanced diet if used reasonably. Here are two healthy chocolate desserts for your child -
A. Chocolate and Risotto Rice Pudding
Preparation time: 1 hour
Cooling time: 1-2 hour
Ingredients:
1/2 cup arborio rice
8 cups whole milk
1 vanilla bean
1/4 tsp ground cinnamon
2 egg yolks
2 tsp vanilla extract
Freshly grated nutmeg
2 cups white chocolate chips
1/4 cup sugar
1/2 cup roasted almonds n pistachios
Method:
1. Combine the milk, sugar, rice, cinnamon, salt and vanilla bean in a large heavy-bottomed sauce pan. Bring the mixture to a boil and then reduce the heat to low and let it cook for about 30 minutes, stirring every 5 minutes.
2. Continue cooking for another 15 minutes till the rice is tender but not mushy, and the milk is thick.
3. In a bowl, whisk the egg yolks. Stir this into the rice pudding and cook on low heat for 2-3 minutes, stirring continuously till the egg cooks and the pudding starts to look creamy and glossy but still fairly soupy.
4. Remove from heat and add in melted white chocolate and mix. Then add the vanilla. Grate a little nutmeg and put in the bowls and plastic wrap the bowls touching the surface to avoid formation of the skin.
5. Cool for about 2 hours - it will thicken automatically on cooling. Sprinkle roasted nuts before serving.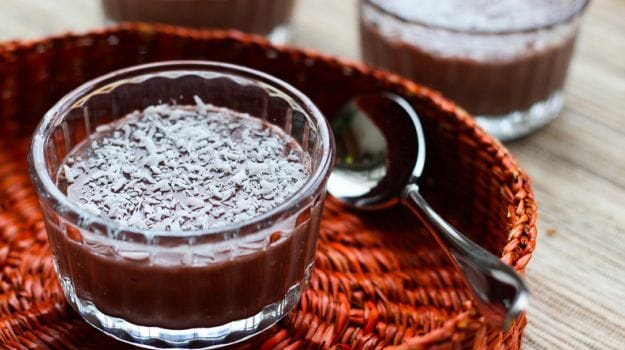 B. Dark Chocolate and Berry Parfaits
Preparation time: 20 mins
Ingredients:
1 1/2 cups or 375g mascarpone
1 cup or 250 ml heavy cream
125 gm dark chocolate
3 cups raspberries plus extra for garnish (if you don't have raspberries, you can use strawberries or grapes or bananas - actually any fruit that you like)
1 cup granola some granola or basic shortbread cookies
Fresh mint for garnish
Few nuts of your choice
Method:
1. Beat the mascarpone on slow speed just for about 10 seconds to smoothen it.
2. On a double boiler, make a ganache of dark chocolate and heavy cream and cool a little
3. Slowly mix the ganache with mascarpone by adding 1 spoon at a time of mascarpone into the ganache and keep this mixture aside. When adding mascarpone to the ganache, if you see lumps in your mixture , put it back on the double boiler and stir a little to dissolve the lumps.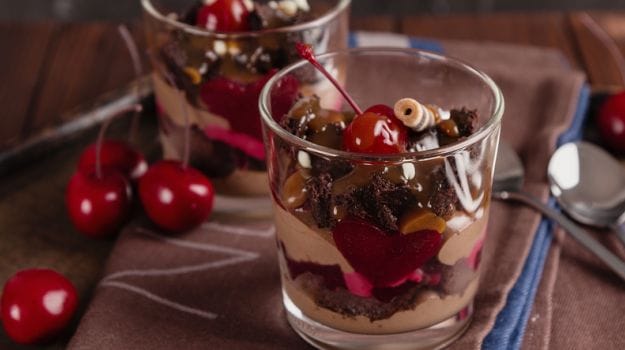 To Assemble:
4. In a wine glass, add some raspberries. On top, pipe a layer of the cream with a round tip. Then add a layer of crushed biscuits and top it up with cream. While crushing the cookies, be careful to keep it chunky. Do not make it into powder.
5. Again repeat the layers of cream, fruit and granola till the glass is full - making sure the top layer is of cream. Feel free to experiment by adding some flavoured compote like mango, pear etc and match it with its fresh fruit.
6. Refrigerate for 2 hours. The longer the parfait chills, the better the taste as the cookies get more time to absorb the liquid and soften - unless of course you like it crunchy. Garnish with a fresh mint leaf and serve.
About Chef Neha Lakhani:
With her extremely capable, inventive and passionate stint in leading hotel chains, pastry consultant, Chef Neha Lakhani, brings fresh and innovative culinary skills to the art of baking inspired by classic training and world travels. Neha is known for her distinctive flair for the dramatic and glamorous, and has been awarded for her flair for innovations. Drawing inspiration from her mother's cooking; recipes collected on her jaunts abroad, and a resolve to bring together global influences, Chef Neha is an innovator and baker par excellence. Neha crafts a wide range of chocolates, truffles, alcohol truffles, chocolate show pieces and delectable cakes. That is when she is not teaching Le Cordon Bleu at GD Goenka School of Hospitality or globe-trotting judging pastry competitions and cook-offs.