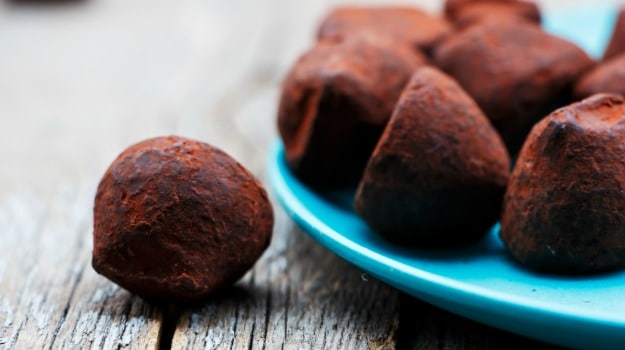 Dark chocolate is rich in soluble fiber, antioxidants, fiber, iron and magnesium
Fats in Dark Chocolate
Yes, it's true that
dark chocolate
is high in both fat and calories but it's not the kind of fat that'll steer you towards obesity but the good kind of fat that'll help your body. Dark chocolate is made with cocoa butter which is different (in terms of its fat properties) from other kinds of oil and butter. It consists mainly of stearic acid, palmitic acid and oleic acid. Stearic acid and palmitic acid are both
saturated fat
but unlike most saturated fatty acids, they don't raise blood cholesterol levels. And oleic acid is a kind of monosaturated fat which could even help lower cholesterol. The level of saturated fats in chocolates goes up when milk is added to it, which is why dark chocolates are much healthier in comparison.
Here are 6 amazing dark chocolate benefits. (If good taste wasn't reason enough)!
If taste wasn't reason enough for you to gorge on perfectly shaped cubes of dark chocolate then here are 6 other amazing reasons.
1.
Lowers Blood Pressure
Research suggests that the high magnesium content in dark chocolate can help lower blood pressure. Studies also suggest that eating dark chocolate raises the level of nitric oxide in your body. Nitric oxide is a naturally occurring substance in your body that acts on small receptors in our blood vessels and helps them dilate thereby lowering overall blood pressure. A 2012 Australian study found that people who eat dark
chocolate
over a short period of time do see a drop in blood pressure by 2 millimeters of mercury.
(Also Read:
6 Amazing Benefits of Aloe Vera for Hair, Skin and Weight-Loss
)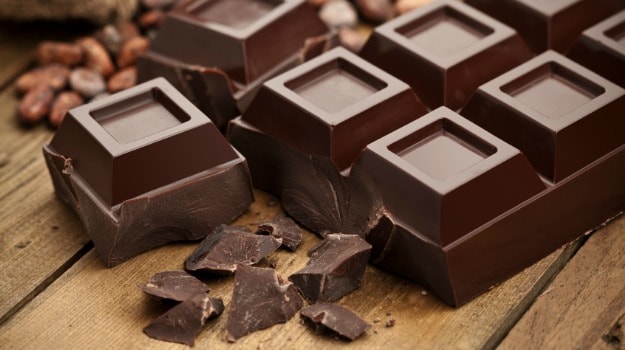 High magnesium content in dark chocolate can help lower blood pressure
2.
Lowers Cholesterol
Studies show that moderate amounts of dark chocolate can lower LDL which is bad cholesterol and raise HDL which is good cholesterol. This in turn helps reduce the risk of cardiovascular diseases and a stroke. Here's how: LDL builds up along the inside of arteries, forming plaque deposits and narrowing arteries. This condition can lead to a heart attack. So if dark chocolate can reduce LDL, they can eventually reduce the risk of a heart attack.
(Also Read:
6 Most Effective Home Remedies for Cholesterol
)