Indian cuisine is known to be fierce rich with spices, indigenous masalas and local peppers. A hint of chilli is always needed to left the flavours in rich Indian curries. Our fondness for spicy kick has even made us invent some rather unique dishes like the famous sweet dish from Rajasthan made with green chillies - 'Mirchi ka halwa'. This is perhaps the same with some other cuisines like Mexican, for instance. Mexicans love the pungent hit of Jalapenos and how. While spices are an important part of cooking, did you know that they can have certain health benefits too?
Capsaicin, the active ingredient found in cayenne pepper, red chilli peppers and jalapenos may lower bad cholesterol (also known as LDL), thus improving heart health. Capsaicin can also help reduce pain by depleting your body's supply of substance P i.e. a chemical component of nerve cells that transmits pain signals to your brain. Green and red chillies are also said to be powerhouse of vitamin C. Now, what if we were to tell you that a pinch of pepper may also help you in shedding those extra pounds? Yes you heard us! Turns out that all of that sweating you do while eating spicy food can actually serve a purpose in your weight loss journey.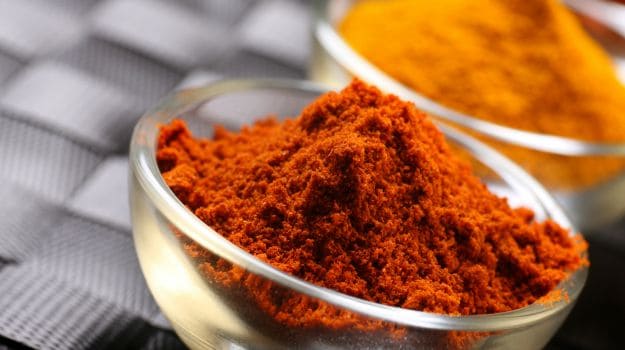 Spicy food can help speed up weight loss by increasing metabolism
Spicy food helps in boosting your metabolism, which results in fat burning. Dr. Simran Saini from Fortis Hospital in New Delhi explains the logic behind this common belief, "Spicy food can help in better metabolizing of food, due to the thermogenic effect." The thermogenic effect or thermic effect of food (TEF) or also known as dietary induced thermogenesis (DIT) refers to the increase in metabolic rate or the rate at which your body burns calories that occurs after ingestion of food.
This thermogenic effect is believed to play a role in burning calories, fighting fat and weight loss. Eating spicy food also increases satiety, making you feel full while eating less.
Macrobiotic Nutritionist and Health Practitioner Shilpa Arora says, "Capasaicin in spicy food help burn fat and boosts your metabolism. However, you would need a nutritional plan as well as a target workout to lose weight. There is no magic pill to weight loss unfortunately."
So, this could probably be one more reason to enjoy the spice. However, make sure you don't end up upsetting your tummy while doing so. Excess of anything can be bad.