Eat your heart out this Holi
Mid-Day | Updated: March 16, 2016 11:39 IST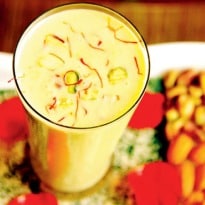 Badam kesar thandai
Recipe by Executive Chef Banshi Dhar of Sun N' Sand, Pune

Ingredients:
1000 ml milk
100 ml water
100 gm sugar
25 gm almond
25 gm magaz (Kharbooze ka Beej)
5 gm saunf
2 gm green cardamom powder
5 gm aniseed
5 gm dry rose petals
5 gm kaali mirch (black peppercorn whole)
5 gm poppy seeds (Khus Khus)
Few strands of saffron

Method
Take water in a pan and soak all dry ingredients except cardamom powder for two hour.

In another bowl soak sugar and milk together and let it stand in a cool place.

Now make a fine paste of all dry ingredients and mix it in milk.

Take muslin cloth and strain milk cautiously, and allow this strained mixture to chill in fridge for few hours.

Now serve your thandai with chopped almonds and few saffron strands and cardamom powder on top.

Phada lapsiI
By Chef Milind Patel, The O Hotel, Pune

Ingredients
100 gm broken wheat (Daliya)
50 gm desi ghee (clarified butter)
10 gm green cardamom powder
5 gm nutmeg powder
Few strands of saffron
150 gm jaggery
2 cups water
1 cup milk (full cream)
20 gm slivered almonds for garnish
Method
Take a heavy bottom pan and put it on slow flame.

When pan is hot, add desi ghee and broken wheat to it.

Roast the broken wheat till the colour changes to golden brown.

Add water and full cream milk and let it simmer.

Add saffron strands and jaggery.

Keep on stirring till it leaves the sides of the pan and fat surfaces.

Add green cardamom powder and nutmeg powder to it.

Garnish with slivered almonds and serve.

Khajor shakarpara
Recipe by Executive Chef Banshi Dhar

Ingredients
1000 gm maida (all purpose flour)
100 gm ghee
5 gm baking powder
100 gm fresh Khajoor
300gm sugar
Desi ghee/Oil to deep-fry
Water for kneading dough and making sugar syrup


Method
Sieve the flour and then add ghee to it. Mix the mixture till it resembles breadcrumbs.

Add baking powder and then with the help of water knead it into stiff dough. Cover it with a damp cloth for 10-15 minutes.

Heat oil in a Kadhai. Divide the dough into three long rolls.

Roll each portion to 1/2-inch thickness and stuff it with flattened dates, and then overlap with another rolled sheets and cut it into cubes.

When the oil gets perfect hot fry the pieces on medium flame for 10-12 minutes or till the pare are crisp and light golden.

Drain them on a paper tissue and fry the remaining pieces in the same way.

To make the syrup (coating)

In a pan boil the water and the sugar till it reaches one-string consistency.

Remove from fire, add the pare all together and coat the pare evenly with the help of a flat spoon.

Do not mix too much, as the sugar will harden.

Take them out and let them dry for a while.

Serve it with little powder sugar dusted on top.

Some more Holi recipes.