Every single time
Priyanka Chopra
steps out onto the red carpet, she makes a fashion statement and makes people go gaga over her effortless style. Her sartorial sense is widely known and nothing that PC wears can ever be stale or boring. Case in point is Chopra's recent photo shoot for the cover spread of the February issue of a popular Bollywood magazine that sent out a stir in both the cinema and the fashion industries. The 35-year-old star looked pristine in a stunning midnight blue dress from Italian designer label, Blumarine, along with a sequin embellished jacket from Hider Ackerman.
But it's not just Priyanka's clothes that are high fashion. Nowadays, apparently even her food is taking a turn towards the fashion ramps. Chopra recently posted a snapshot of a couple of cookies shaped like clutch purses sent to her by Bottega Veneta. But what's so astounding about these cookies is the fact that they look too pretty and too real to eat. Have a look! (Also Read: What Is The Difference Between Cookies and Biscuits?)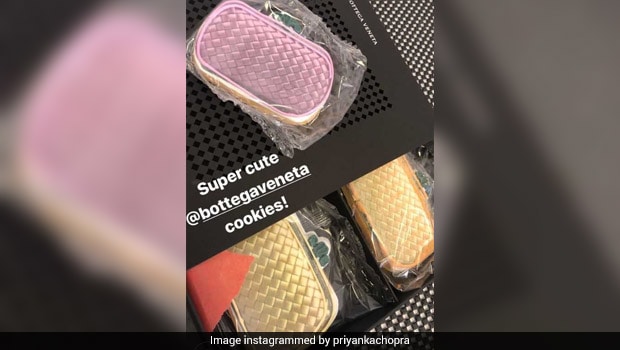 Coming back to Priyanka, the Quantico star has quite a big appetite, which is why she was named 'Piggy Chops' by Abhishek Bachchan. Chopra is a self-confessed foodie, as is the case with every true-blue Punjabi person in the world. However, thanks to her superb metabolic rate, she doesn't have to worry about putting on weight despite indulging in her favorite foods.