Here's a quick guide on how to make healthy cookies at home, for those who've jumped onto the calorie conscious bandwagon.Gooey, crunchy and nothing short of spectacular, freshly-baked cookies always take me back to my childhood. Memories of baking with my grandmother on a sunny winter afternoon, referring to recipes scrawled in her tattered folio, mixing the batter and sneakily eating a spoonful of cookie dough all come rushing back to me. And this December, my thoughts have definitely turned to all things cookie. Can you blame me? Christmas is just around the corner! Tis' the season for baking holiday treats for endless family gatherings, and a batch for Santa too.Cookies always manage to make the weeks turning up to Christmas even more intensely special, and the end to the year just a little sweeter. In case you think you need to banish this high-calorie treat from your diet, don't fret just yet. This year, we're spilling our scrumptiously simple yet healthy ideas such as almond cookies, peanut cookies, walnut cookies, whole grain cookies and oatmeal cookies for those who don't have 'cheat day' in their dictionary even during the holiday season.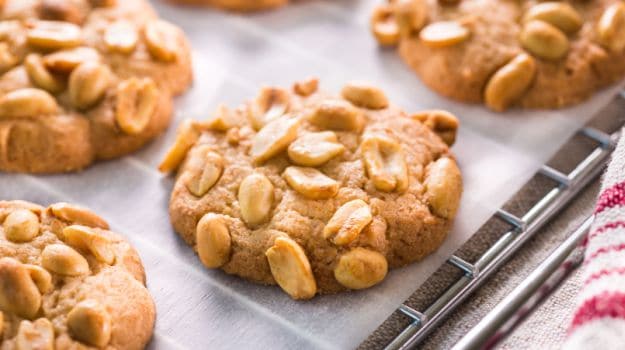 The Science of Baking Healthy Cookies
Every cookie recipes shares the same ingredients: flour, sugar, butter, and eggs. And it's the ratio of these 4 core ingredients and how we mix them together that makes one batch of cookies different from the next. Don't worry! Once you've mastered the super-easy art of making them from scratch, there will be no going back to the store-bought variety.
1. How to Make Heart Healthy Cookies
Swap out some of the butter for heart-healthy oils such as canola oil or olive oil. For every tablespoon of butter you replace, you get rid of at least 5 grams of saturated fat. The cookies tend to be crispier but dry out easily, so store in an airtight container.
2. Add Fiber
Try replacing some, or all, of the all-purpose flour with whole-wheat flour or oats. Did you know: if you make 100% whole-wheat cookies and eliminate the all-purpose flour completely, your cookies get 4 times the amount of fiber in every batch? If you're still not used to the taste, try adding flaxseeds to your cookies for that added fiber without compromising on taste. Flaxseeds pair well with oatmeal cookies and ginger biscuits.
3. Keep Sodium in Check
Aim for 1/2 teaspoon salt per batch of cookies, and no more. If you wish to be extra careful, you can reduce the amount of salt to 1/4 teaspoon.
4. Eliminate Artificial Ingredients
Steer clear of any ingredient that contains hydrogenated oil or trans fats, because the whole point of baking at home is to use whole ingredients and avoid processed foods. Keep it as natural as possible. Skip the sprinkles, and decorate your cookies with a drizzle of chocolate for that extra appeal.
5. Replace Sugar and Fat
In place of sugar, use brown cane sugar or honey. You can also use fruit puree.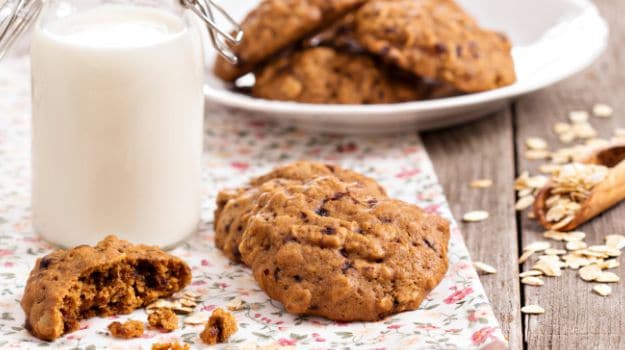 3 Healthy Cookie Recipes You'll Love
1. Oatmeal Cookies
A recipe that is every calorie-conscious cookie monster's dream come true! These oatmeal cookies provide a little extra dietary fiber but are yummy nonetheless. You can customize the recipe to suit your taste - perhaps jazz it up with some decadent chocolate chips or a kick of ginger or chopped almonds, pecan nuts, walnuts.Total Time: 35 minutesIngredients:
3 eggs
¼ cup brown sugar
1 cup melted coconut oil
2 tsp vanilla essence
2 tsp sugar free
¼ tsp salt
1 ½ tsp baking soda
2 cups quick oats
1 ½ cups whole wheat flourInstructions:
1. Preheat oven to 325 degrees F, and grease the baking sheets.
2. In a medium-sized bowl, whisk eggs for 30 seconds. Then add brown sugar and whisk again. Add vanilla essence, coconut oil and sugar free.
3. In another bowl, mix salt and baking soda together. Add oats and whole wheat flour to the mixture and combine until you get a thick cookie dough.
4. Use an ice cream scoop and place even amounts of cookie dough on the baking sheets.
5. Bake for 10-15 minutes until the edges are golden-brown and a toothpick comes out clean. Remove from the oven and transfer to a cool wire rack.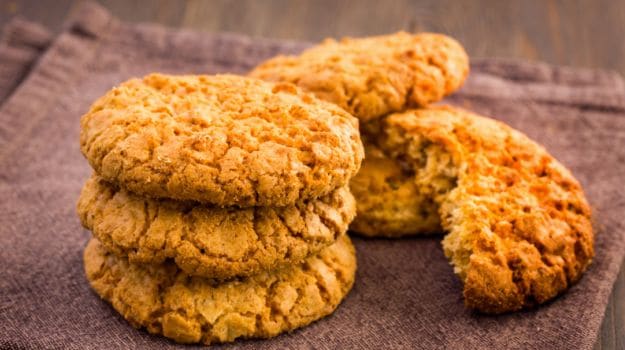 2. Peanut Butter Cookies
Healthy, gluten-free, oat-based cookies sure to satisfy all your cravings, we promise. These cookies are high on fiber thanks to peanut butter, oats and banana.Total Time: 30 minutesIngredients:
½ cup honey
½ cup peanut butter
⅓ cup mashed banana
4 tbsp butter or ¼ cup melted coconut oil
2 eggs
1 tsp vanilla extract
½ tsp baking soda
½ tsp baking powder
½ tsp ground cinnamon
1 ½ cup rolled oats (grind for 30 seconds in food processor)
1 ½ cups semi-sweet chocolate chipsInstructions:
1. Preheat the oven to 325 degrees Fahrenheit, and lightly grease the baking sheets.
2. Pour the honey and peanut butter mixture into a mixing bowl. Add the mashed banana and melted butter and whisk until the mixture is well blended. Use your whisk to beat in the egg, then add vanilla essence.
3. In another bowl, add oats, baking powder, baking soda, cinnamon and chocolate chips until they are evenly combined. Combine the dry and wet ingredients.
4. Then use an ice cream scoop to place even amounts of cookie dough onto the baking sheets.
5. Bake the cookies until they're just beginning to turn golden around the edges, about 15 minutes. Then remove the cookies from the oven and let them cool completely on the wire rack. If desired, sprinkle lightly with flaky sea salt.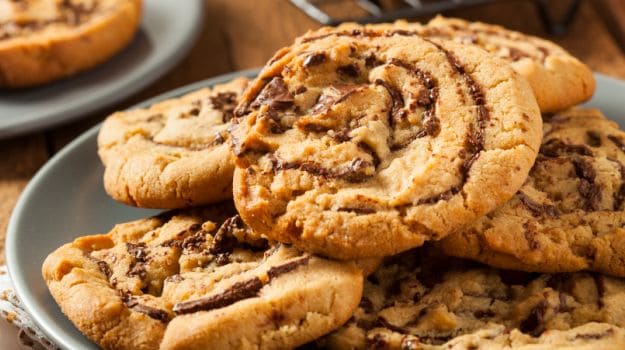 3.
Ragi Cookies
Recipe by Seema Chandra
Crunchy, crumbly and packed with calcium - these guilt-free cookies will leave your family reaching for another.